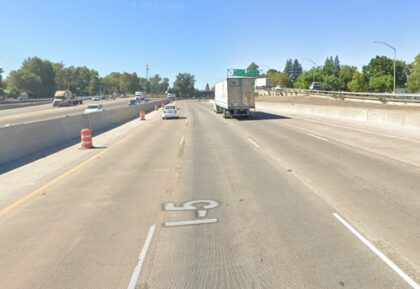 Authorities reported a multi-vehicle collision involving a big rig causing possible injuries in Sacramento on Wednesday morning, March 15, 2023.
According to the California Highway Patrol, the collision between a big rig and two sedans occurred on southbound Interstate 5 south of Q Street.
What led to the crash is not clear at this point. It happened on the number 2 and 3 lanes of southbound I-5, causing some traffic delays up to the Natomas area.
The responding firefighters had to extricate someone from the wreckage. The number of people involved and the extent of their injuries remain unknown.
The investigation into the crash continues, including whether speeding or intoxication played a role.

Big Rig Accident Statistics
Truck drivers and passengers have more protection than those in cars or other smaller vehicles in the event of an accident. This means that in the event of an accident, passengers in smaller vehicles are statistically more likely to sustain catastrophic injuries or even death. Even a single truck or big rig being involved can have severe consequences.
The National Highway Traffic Safety Administration estimated that 4,965 people lost their lives in the United States due to heavy vehicle accidents in 2020. The record number of fatalities in 2019 was 5,032, showing a decrease of 5% in 2020. Even still, trucks are responsible for 71% of traffic-related fatalities in the United States.
In 2020, large trucks made up 8.9% of all vehicles involved in fatal accidents in the United States. In 2015, truck-car accidents claimed the lives of at least ninety individuals in California. The only other states with at least fifty truck-related deaths that year were Texas and Florida.
What to Do After a Big Rig Accident
Don't hesitate to call 911 if you or a loved one has been involved in a truck accident. When talking with authorities or insurance companies, it is imperative that you always be forthright and never assume anything. Some of the innocent victims might even be sorry. If the victim acts this way, the insurance company may opt not to pay out.
A copy of the final report can be obtained by making a formal request to the relevant authorities. Please use the short online form on this page to get in contact with us as soon as possible. We'll start working on your inquiry as soon as we receive it. If you are unsure of the worth of your claim, please contact our highly renowned attorney for a free, no-obligation consultation.
Big Rig Accident Lawyers in Sacramento County
Those who have suffered injuries in truck accidents in the state of California can file a civil action to seek compensation for their medical bills, lost earnings, and other losses. For assistance with submitting an insurance claim or to inquire about having one of our skilled attorneys negotiate a favorable settlement on your behalf, please get in touch with us.
Our trusted Sacramento County big rig accident lawyers at Arash Law, led by Arash Khorsandi, Esq., have extensive experience and accolades advocating for accident victims, with awarded compensation totaling $400 million. Call (888) 488-1391 now or click the "Do I Have a Case?" on our website to set up a free consultation with one of our attorneys.