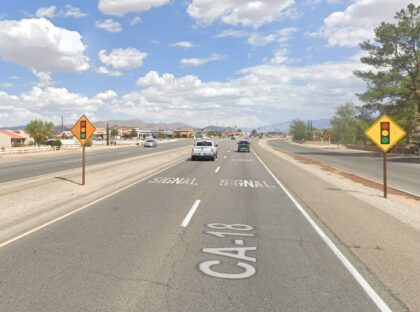 A pedestrian collision claimed the life of a 27-year-old in Apple Valley early Wednesday morning, March 15, 2023.
Reports indicated that the deadly crash occurred around 12:23 a.m. on State Highway 18 between Symeron Road and Rancherias Road.
Authorities responded to calls of the crash and discovered that the pedestrian was walking along the eastbound #2 lane when the 2003 GMC Yukon struck him.
The pedestrian suffered severe injuries and was pronounced dead at the scene. The victim's dentity has been withheld pending notification of his next of kin.
The Major Accident Investigative Team (M.A.I.T.) arrived and conducted a thorough investigation.
State Highway 18 eastbound lanes remained closed for about two hours while investigators searched for evidence.
It is not known whether the pedestrian was under the influence of drugs or alcohol. However, it was determined that the GMC driver wasn't under the influence of alcohol or drugs.
Those with information about the collision or who witnessed it urged to call Deputy R. Grissom at the Apple Valley Sheriff's Station at (760) 240-7400 or Sheriff's Dispatch at (760) 956-5001.

Fatal Pedestrian Collision Statistics
According to a Governors Highway Safety Association report, 7,485 pedestrians died in 2021, the highest number in 40 years.
Speed-related pedestrian deaths increased from 7.2% in 2019 to 8.6% in 2020. Pedestrian safety is significantly affected by speed. With vehicle speed, pedestrian fatalities increased sharply between 23 and 58 mph, from 10% to 90%.
The number of pedestrian deaths and collisions in California is the highest in the country. Over 14,000 pedestrian injuries occurred in the state in 2012, with 893 pedestrian deaths.
Pedestrians must always walk on sidewalks, avoid drugs and alcohol, and carefully cross parking lots and driveways. They will have a lower chance of injury if they follow these precautions.
How To Obtain a Police Report Following an Accident
If you've been involved in an accident, we can help you obtain a police report.
We only need details about what happened and where it happened. We will contact the relevant parties and get you all the necessary information.
We handle this process for every client, so you never have to worry about your insurance coverage-we'll manage it all for you!
Trusted Pedestrian Accident Lawyers in Apple Valley
Pedestrian safety should always come first, even without a crosswalk. When colliding with pedestrians, vehicles must yield the right of way. The responsible party may be questioned if there is reason to believe that a law has been broken.
Those who have been injured are entitled to seek monetary and non-monetary damages, including pain and suffering.
Our goal is to provide sound legal counsel to help you succeed and obtain the compensation you deserve.
In every case, our Apple Valley pedestrian accident lawyers at Arash Law, headed by Arash Khorsandi, Esq., prioritize their client's needs above all else. After a serious pedestrian accident, we strive to immediately return you to your routine.
Dial (888) 488-1391 today or through our website's "Do I Have a Case?" form to learn more about your legal options.