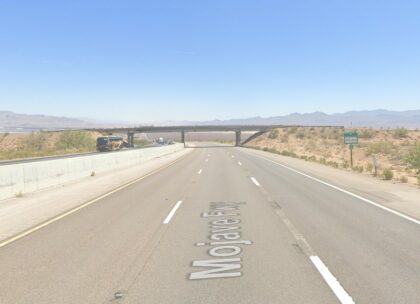 A big rig collision occurred along Interstate 15 in San Bernardino County on Wednesday morning, March 15, 2023.
The crash reportedly occurred around 7:45 a.m. northbound on Interstate 15 near Nipton road.
According to authorities, a tractor-trailer was traveling in the area when it lost control and collided with another tractor-trailer.
The California Highway Patrol and San Bernardino County Fire Department jumped into action and discovered that the tractor-trailer had struck the trailer of the other big rig causing the freeway to be covered in debris and candy bars.
The extent of possible injuries remains under investigation, although the initial report stated there were no major injuries.
The I-15 southbound section had to be closed off because of the collision.

Big Rig Accident Statistics
In an accident, truck drivers and passengers are better protected than those in cars or other smaller vehicles. Smaller vehicle occupants are thus statistically more likely to suffer severe injuries or even pass away in the event of a collision. A single truck or big rig accident can have serious repercussions.
According to the National Highway Traffic Safety Administration, heavy vehicle accidents will be responsible for 4,965 fatalities in the United States in 2020. A record number of 5,032 fatalities were recorded in 2019, but it showed a 5% decline in 2020. Nevertheless, 71% of fatal traffic accidents in the US are caused by trucks.
In 2020, 8.9% of all vehicles involved in fatal accidents in the US were large trucks. In California, truck-car collisions resulted in at least 90 fatalities in 2015. Texas and Florida were the only other states with at least 50 truck-related fatalities that year.
What to Do After a Big Rig Accident
If you or a loved one has been in a truck accident, dial 911 immediately. It's crucial to be honest and never make assumptions when communicating with law enforcement or insurance companies. It's possible that some of the victims feel remorse which might cause the insurance company not to pay out the victim's claim.
If you formally request it, the appropriate authorities should provide you with a copy of the completed report. If you'd like to get in touch with us quickly, please fill out the brief online form on this page. Once we get your message, we'll work on answering your questions. If you have doubts about the value of your case, our well-respected lawyer is available for a free, no-risk consultation.
Big Rig Accident Lawyers in San Bernardino County
If you or a loved one have been injured in a truck accident in California, you have the right to file a civil action seeking compensation for your damages.
We encourage you to contact us if you need help filing an insurance claim or want to know more about having one of our experienced lawyers negotiate a settlement on your behalf.
Our reliable San Bernardino County truck accident attorneys at Arash Law led by Arash Khorsandi, Esq., obtained compensation for their clients totaling 400 million dollars.
Call (888) 488-1391 now or fill out the "Do I Have a Case?" form on our website to set up a free consultation with one of our attorneys.