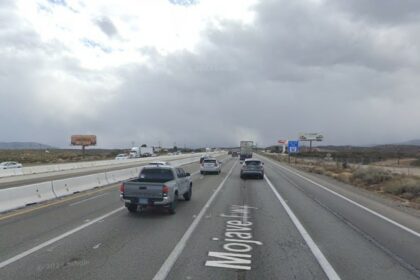 One person was critically injured after a collision between a vehicle and a semi-truck in San Bernardino County on Wednesday night, March 15, 2023.
The California Highway Patrol reported that the crash that overturned the vehicle occurred around 9:30 p.m. on the northbound Interstate 15 freeway south of Oak Hill Road.
A gray Nissan reportedly collided with the trailer of a semi-truck on the highway's right-hand shoulder, causing the Nissan to overturn and erupt in flames. Witnesses stated the car was severely damaged, with its roof completely gone. The highway was littered with debris from the crash.
The driver of the Nissan was ejected from the car. Good thing a good Samaritan driving a silver Chrysler 300 pulled over, loaded the injured motorist inside his vehicle, and then drove off to the 76 gas station at Mariposa and Ranchero roads to meet with a responding CHP officer.
The San Bernardino County Fire transported the motorist to a trauma center via ground ambulance after the initial request for a helicopter was canceled. No updates on the driver's current state were available.
No further information was released on the other driver's condition and the exact cause of the collision. CHP is still looking into the crash.

Truck Accident Statistics
In the case of an accident, drivers and passengers of large trucks have better protection than those in automobiles or other smaller vehicles. This means that people riding in smaller cars are statistically more likely to suffer serious injuries or even die in the event of an accident. The involvement of just one truck or semi-truck can have disastrous effects.
According to the National Highway Traffic Safety Administration, truck accidents killed 4,965 individuals in the United States in 2020. From 2019's record of 5,032 fatalities, 2020 saw a 5% decline. Unfortunately, trucks still accounted for 71% of all such deaths.
In 2020, big trucks accounted for 8.9% of all U.S. vehicle fatalities. At least ninety people lost their lives in California in 2015 due to collisions between trucks and cars. Texas and Florida were the only two states that year to have at least fifty deaths connected to trucks.
What to Do After a Truck Accident
Call the police right away if you or a loved one are involved in a truck accident. Be forthright and avoid forming assumptions while communicating with authorities or insurance companies. Some victims, despite their lack of guilt, may feel forced to offer an apology. If the victim acts in such a way, the insurance company will refuse payment of any claims.
With proper request, the relevant authorities should provide a copy of the completed report. If you need to get in touch with us quickly, please fill out the brief online form provided below.
Upon receiving your message, we will promptly get to work responding to your inquiry. If you are unsure of the strength of your case, feel free to contact our highly-regarded attorney for a free, no-obligation consultation.
Truck Accident Lawyers in San Bernardino County
People in California who have been hurt in truck accidents can take legal action to recover financial damages for their suffering. Please contact us if you need help filing an insurance claim or if you want to know more about having one of our experienced lawyers negotiate a settlement on your behalf.
Our trusted San Bernardino County truck accident lawyers at Arash Law, led by Arash Khorsandi, Esq., have extensive experience and accolades advocating for accident victims, with awarded compensation totaling $400 million. Call (888) 488-1391 now or click the "Do I Have a Case?" on our website to set up a free consultation with one of our attorneys.