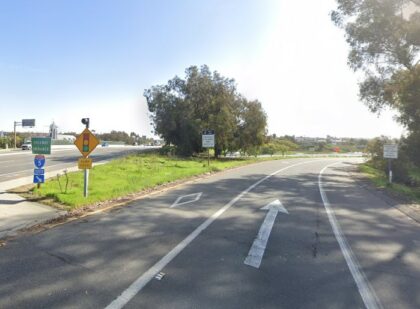 A hit-and-run crash claimed a woman's life in Carlsbad on Wednesday night, March 15, 2023.
The deadly collision reportedly occurred around 7:20 p.m. near the intersection of Palomar Airport Road at the southbound Interstate 5 onramp.
Authorities responded to a report of a woman with severe injuries lying in the roadway. Upon arrival, they attempted life-saving measures on a victim, but she was pronounced dead.
The circumstances surrounding the woman's death are unknown, and a hit-and-run investigation is underway.
The woman's identity has not yet been made public, pending notification of her family.
Those with information regarding this incident are urged to contact Traffic Accident Investigator Corporal Matt Bowen.

Fatal Hit-And-Run Crash Statistics
According to the AAA Foundation for Traffic Safety, 680,000 people are injured or killed annually in hit-and-run accidents. Hit-and-run fatalities have increased in recent years. The number of pedestrian fatalities from these accidents accounted for 24% of pedestrian deaths in 2020.
A hit-and-run occurs when one vehicle collides with another, and the driver flees without helping the injured.
In addition to the anguish, and financial and emotional costs associated with hit-and-run accidents, victims may suffer injuries due to negligence or a delay in providing medical care.
Pedestrian injuries are primarily caused by distracted driving. Drivers may communicate with passengers, change the radio, or talk on the phone while driving. You're more likely to miss someone crossing the street when you're multitasking.
Wearing bright clothing can reduce the likelihood of an accident in certain situations. Getting across the street slowly will make approaching cars more visible to you.
How Do I Obtain a Police Report Following an Accident?
Our team can assist you in obtaining a police report after an accident.
All you need to do is give us the details of what happened and where it occurred. We will then contact the relevant parties and get you all the information you need.
You won't have to worry about whether or not your insurance will cover any damage or injuries because we will guarantee that everything is covered!
Reliable Hit-And-Run Accident Attorneys in Carlsbad
Hit-and-run accident victims who incur injuries need considerable time and effort to recover. Medications are costly, and they may lose employment.
Legal counsel should be sought by anyone injured in such an accident. Hit-and-run drivers may still be held accountable even if they are never identified.
With our legal team, you can be confident that your case will be handled professionally and efficiently. In all cases, reckless drivers should be held accountable.
You can rely on our Carlsbad hit-and-run accident attorneys at Arash Law, headed by Arash Khorsandi, Esq., who have a proven track record of representing hit-and-run victims in these legal proceedings. You can count on us to seek financial compensation without paying anything out-of-pocket.
To schedule an initial consultation, dial (888) 488-1391 today or use our website's "Do I Have a Case?" link.