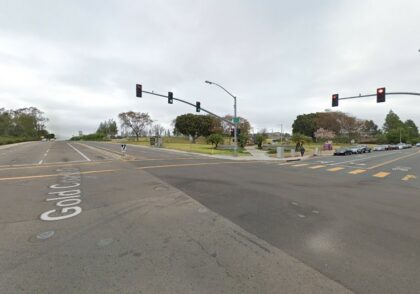 At least one person was hospitalized following a multi-vehicle collision that caused a gas leak in Mira Mesa, San Diego, on Wednesday afternoon, March 15, 2023.
According to the San Diego Fire Department, the crash involving two to three cars occurred at about 3:18 p.m. on Black Mountain Road and Gold Coast Drive.
Two people were evaluated by the responding officers for any possible injuries. One was transported to a hospital in an unknown condition and with unspecified injuries. No further details were available on the condition of the other person involved.
A black SUV reportedly struck a gas meter, severing and exposing the gas line, and caused a gas leak which prompted an evacuation of the residents of a condominium building. The evacuation was later lifted at about 6:45 p.m.
By 5:30 p.m., San Diego Gas & Electric was able to cut off the gas after the estimated two-inch diameter line damage. Black Mountain between Carrol Canyon and Gold Coast was also closed for several hours.
No other information was immediately available as the investigation continued.

Multi-Vehicle Accident Statistics
In the United States, automobile collisions are the leading cause of a disproportionate share of accidental fatalities and injuries. In addition, the number of people injured in car accidents reaches ten million while the fatalities reach two million across the whole world.
According to a report made by the National Safety Council, the number of people killed in traffic accidents in the United States rose by 8.3 percent in 2020. After three years of decline, this happened. In 2019, 39,107 people lost their lives in car accidents. There were 42,338 the following year, in 2020.
2020 also saw 3,847 persons in California lose their lives due to car crashes. Multi-car crashes accounted for nearly half (1.587 or 41%) of all fatalities. Single-vehicle accidents accounted for the majority (59%) of fatalities (2,260).
What to Do After a Car Accident
If you or a loved one got involved in a car crash, don't hesitate to contact the police. It is critical to be forthright and not assume anything when communicating with law enforcement or insurance companies. Victims may feel they need to apologize even though they are not at fault. If the victim behaves this way, the insurance company will not pay out.
The authorities will gladly provide you with a copy of the final report if you ask for one. Simply fill out the short online form we've provided below to contact us. As soon as we get your message, we'll get to work on it. If you have any concerns regarding the strength of your case, please feel free to contact our renowned attorney for a no-cost, no-obligation consultation.
Car Accident Lawyers in San Diego County
If you or a loved one have been injured in a car accident, don't hesitate to contact one of our highly renowned personal injury and wrongful death attorneys in your region. If you have any concerns about submitting a claim or would want to set up a meeting with one of our lawyers, please don't hesitate to contact us right now.
Our trusted San Diego County car accident lawyers at Arash Law, led by Arash Khorsandi Esq., have the recognition and vast experience to advocate for accident victims, with awarded compensation totaling $400 million as of yet. Contact (888) 488-1391 or click the "Do I Have a Case?" on our website to schedule a free consultation with one of our lawyers.