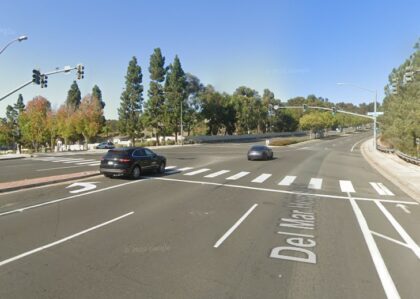 Two people sustained injuries following a two-vehicle collision in Carmel Valley, San Diego, on Wednesday morning, March 15, 2023.
According to the San Diego Fire Department, the crash occurred shortly before 8:00 a.m. on Carmel Canyon Road and Del Mar Heights Road.
What led to the collision is not exactly clear at this point, but two unidentified vehicles were involved. An individual got trapped in the wreckage and had to be extricated by the responders.
Two people, including the extricated victim, sustained unspecified injuries, the extent of which was not immediately known. One was transported to Scripps Memorial Hospital, the other to Jacobs Medical Center.
No further details were available on the victims' identities and their current condition as the investigation continued. It is unknown whether speeding or intoxication played a role.

Two-Vehicle Accident Statistics
In the United States, automobile accidents are the leading cause of accidental death and injury every year. Worldwide, automobile accidents account for about two million deaths and ten million injuries per year.
The National Safety Council reports that in 2020, the number of Americans killed in automobile accidents rose by 8.3 percent, despite a three-year drop. In 2019, there were 39,107 people killed in car accidents. In 2020, it increased to a total of 42,338.
A total of 3,847 persons lost their lives in car accidents in California in 2020. Two-car accidents accounted for 41% of fatalities (1,587 deaths), while single-car accidents accounted for 59% (2,260).
What to Do After a Car Accident
If you or someone you care about has been in a car accident, dial 911 immediately. Always be honest and never make assumptions while communicating with law enforcement or insurance companies. There are some innocent victims who may apologize. The insurance company may decide not to pay out if the victim display such behavior.
If you make a formal request to the appropriate authorities, they will provide you with a copy of the final report. If you need to get in touch with us quickly, please fill out the brief online form on this page. Soon after we get your inquiry, we'll get to work on it. Call our highly regarded attorney for a free, no-obligation consultation if you have any questions about the value of your claim.
Car Accident Lawyers in San Diego County
If you or a loved one has been hurt in a car accident, please call our highly renowned local personal injury and wrongful death attorneys for a free consultation. If you need answers on submitting a claim or would like to schedule a consultation with one of our lawyers, please get in touch with us.
Our trusted San Diego County car accident lawyers at Arash Law, led by Arash Khorsandi Esq., have the recognition and vast experience to advocate for accident victims, with awarded compensation totaling $400 million as of yet. Contact (888) 488-1391 or click the "Do I Have a Case?" on our website to schedule a free consultation with one of our lawyers.