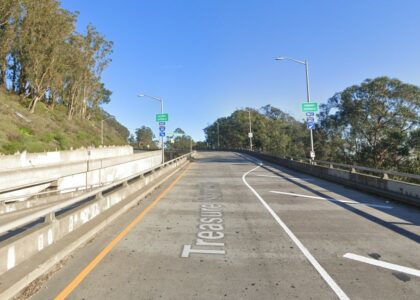 Two people were killed after a big rig crash in San Francisco on Wednesday night, March 15, 2023.
The deadly collision reportedly occurred around 11:30 p.m. near the Treasure Island on-ramp.
According to authorities, a driver in a Dodge Charger was going too fast at the time and rear-ended a semi-truck in the westbound direction of the bridge, east of Treasure Island.
Due to the impact, the driver and the vehicle occupant of the Dodge were pronounced dead at the scene.
Meanwhile, the semi-truck driver was uninjured.
The fatal crash closed all lanes for hours as crews worked to clear the wreckage around 3:00 a.m. Thursday.
Further investigations on the crash are underway.

Fatal Truck Accident Statistics
As reported by the National Highway Traffic Safety Administration, large trucks accounted for 8.9% of fatal crashes in 2010, but only 3.8% of injuries and 5% of property damage crashes. 64.6% of the 4,842 fatal truck collisions involved combination trucks.
On American highways and roads, large trucks are frequently the cause of fatal accidents. Due to the size difference, traffic accidents involving tractor-trailers are more common than those involving passenger cars.
A large truck is any medium or heavy truck weighing more than 10,000 pounds, excluding buses and recreational vehicles. Both noncommercial and commercial vehicles fall into this category.
Large truck accidents frequently result in the death of passengers. Passengers in smaller vehicles are particularly vulnerable. In addition to their weight, trucks have a higher ground clearance, a greater ground clearance than cars, and can overtake smaller vehicles.
What Should You Do Following an Accident
It is a good idea to file a police report after collecting information, assuming it is safe. This allows the police to record what happened during the accident on a central database. These records are kept on file within the police department, and it ensures that data is held securely.
The police often attend to an accident in any case, but if they do not, you can contact your local police by phone or in-person to file an accident report after the accident. Consequently, even if the police are not at the collision site, they will gather the information themselves and create a police report later on.
Award-Winning Truck Accident Lawyers in San Francisco
Professional truck drivers must adhere to all laws and regulations. In most cases, they are responsible for accidents involving their large vehicles. An injured party may file a lawsuit against the party responsible for the accident after a tragic incident.
Our San Francisco truck accident lawyers at Arash Law, led by Arash Khorsandi, Esq., can represent you if you've been injured in a truck accident. You can rely on our legal team to fight for the maximum settlement you are owed.
Due to their extensive training and experience, they can assist you in obtaining the best settlement possible.
To schedule a free case review with our team, call (888) 488-1391 or fill out our "Do I Have a Case?" link on our website.