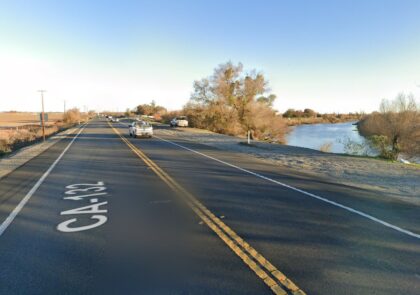 Two men were injured after being rescued from the rapid, chilly San Joaquin River following a two-vehicle crash in Stanislaus County on Wednesday morning, March 15, 2023.
According to the California Highway Patrol and Stanislaus County Sheriff's Department, the crash occurred shortly after 10:00 a.m. along Highway 132 east of North Gates Road, near the Old Fisherman's Club.
Both men were traveling westbound in a Ram pickup when an eastbound Toyota veered across the double yellow lines for unknown reasons and partially crossed the westbound lane. The left side of both vehicles crashed, causing the pickup to lose control and leave the road, down an embankment, and into the river.
The occupants wore their seatbelts and managed to exit their car before it got fully submerged. Both men were saved by Air 101 and a firefighter rescue boat while chest-deep in the water, clinging to a tree branch for roughly 40 minutes.
They were transported to hospitals in Modesto. 67-year-old Dimas B. required treatment for hypothermia, while 58-year-old Adam F. sustained minor injuries. The Toyota driver, 40-year-old Adam R. from Modesto, was unharmed.
Although the Toyota driver was found to be not under the influence at the time of the crash, the investigation into the collision continues.

Two-Vehicle Accident Statistics
Every year, auto accidents in the United States account for the highest number of accidental deaths and injuries. Over two million people every year lose their lives and ten million more are injured as a result of car accidents around the world.
According to the National Safety Council, the number of Americans killed in automotive accidents in 2020 increased by 8.3 percent, following a three-year decline. There were 39,107 fatalities associated with automobile accidents in 2019. The number rose to 42,338 by 2020.
The year 2020 also saw 3,847 fatalities due to automobile accidents in California. There were 1,587 people killed in two-vehicle accidents, which accounted for 41% of all fatalities. 59% of deaths resulted from single-vehicle accidents (2,260).
What to Do After a Car Accident
Contact the authorities at once if you or a loved one has been involved in a car accident. When talking with authorities or insurance companies, it is imperative that you always be forthright and avoid making any assumptions. Even if they were completely blameless, innocent victims sometimes feel the need to apologize. If the victim behaves in such a way, the insurance company may choose not to pay out.
A copy of the final report can be obtained by formally requesting it from the relevant authorities. Get in touch with us as soon as possible by completing the quick online form on this page. As we receive your inquiry, we will immediately begin processing it. If you have concerns regarding the potential compensation for your case, feel free to contact our renowned lawyer for a no-cost, no-risk consultation.
Car Accident Lawyers in Stanislaus County
Call our well-respected personal injury and wrongful death lawyers in your area today for a free consultation if you or a loved one has been wounded in a car crash. We encourage you to get in touch with us if you have questions about filing a claim or would want to arrange a meeting with one of our attorneys.
Our trusted Stanislaus County car accident lawyers at Arash Law, led by Arash Khorsandi Esq., have the recognition and vast experience to advocate for accident victims, with awarded compensation totaling $400 million as of yet. Contact (888) 488-1391 or click the "Do I Have a Case?" on our website to schedule a free consultation with one of our lawyers.