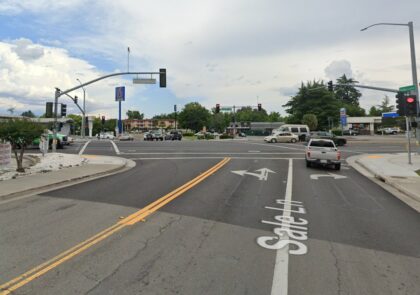 Two people were hospitalized following a car crash in Red Bluff on Wednesday morning, March 15, 2023.
According to the CAL FIRE Tehama-Glenn Unit, the crash occurred around 11:30 a.m. near the intersection of Antelope Boulevard and Sale Lane.
What exactly led to the crash and the number of vehicles involved is currently unknown, but an SUV reportedly had front-end damage.
The number of people involved is unclear, but two people were taken to the hospital with unspecified injuries in unknown conditions.
No further details were immediately available as the investigation continued.

Car Accident Statistics
In 2020, the National Safety Council found that the leading cause of unintentional death and serious injury on American roadways were speeding, drunk driving, and the lack of use of safety measures like seatbelts.
The death toll from automobile accidents in the United States rose by 8.3 percent in 2020, reversing a three-year downward trend. Deaths from car crashes increased from 39,107 in 2019 to 42,338 in 2020.
More than 4.8 million people in 2020 were treated for injuries sustained in automobile accidents. About $473.2 billion has been budgeted to help those injured in car crashes. Lost wages, public transit, medical care, office supplies, and vehicle maintenance are just a few examples of the many small expenses that may quickly pile up.
What to Do After a Car Accident
It is vital that you contact the authorities immediately if you or a loved one have been involved in a car crash. When dealing with authorities or insurance companies, it is imperative that you always be forthright and never assume anything. Victims may feel they need to apologize even though they had nothing to do with the incident. It's possible that the insurance company won't pay out if the victim acts in such a way.
The relevant authorities are responsible for supplying you with a copy of the final report upon official request. To get in touch with us quickly, please complete the brief online form on this page. As soon as we get your inquiry, we will begin to work on it. If you have doubts about the possible compensation for your case, please contact our renowned attorney for a free and no-risk consultation.
Car Accident Lawyers in Tehama County
If you or a loved one has been hurt in a car accident and you think you may have a case for personal injury or wrongful death, please give us a call now for a free consultation. Get in touch with us if you need help understanding your insurance policy or would like to see an attorney before submitting a claim.
Our trusted Tehama County car accident lawyers at Arash Law, led by Arash Khorsandi Esq., have the recognition and vast experience to advocate for accident victims, with awarded compensation totaling $400 million as of yet. Contact (888) 488-1391 or click the "Do I Have a Case?" on our website to schedule a free consultation with one of our lawyers.