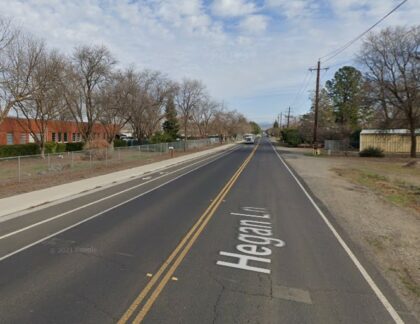 One person was hospitalized following a two-vehicle crash in Chico, Butte County, on Thursday afternoon, March 16, 2023.
According to California Highway Patrol Chico, the collision occurred at about 4:46 p.m. on Hegan Lane.
What led to the crash is currently not known, but it reportedly involved a red Ford Ranger and a silver Toyota Corolla.
At least one person was sent to the hospital with minor injuries. How many were involved is unclear at this point.
CHP stated that improper backing is being looked into as a possible cause of the crash.

Two-Vehicle Accident Statistics
Car accidents are a leading cause of unintentional death and injury in the United States. Additionally, automobile accidents account for roughly ten million injuries and as many as two as million deaths in the world.
The National Safety Council estimated that traffic-related fatalities in the United States increased by 8.3 percent in 2020. This followed a downward trend that lasted for three years. Vehicle accidents claimed the lives of 39,107 individuals in 2019. There were a total of 42,338 in 2020.
As many as 3,847 people lost their lives in automobile accidents in California that year in 2020. Around 41%, or 1,587 people, were killed in multi-vehicle accidents involving two or more cars. A majority (59%) of fatalities were caused by single-car collisions (2,260).
What to Do After a Car Accident
Call the police immediately if you or a loved one are involved in a car accident. When speaking with authorities or insurance companies, it's vital to be honest and avoid making any assumptions. Victims, even if they are not at fault, may feel they must apologize. Insurance companies can use such behavior as evidence against a claim.
The relevant authorities will gladly give you a copy of the completed report if you ask for it. To contact us, please fill out the online form we've made available below. After we receive your communication, we'll start to work on it immediately. Feel free to reach out to our highly regarded attorney for a free, no-obligation consultation if you have any doubts about the viability of your case.
Car Accident Lawyers in Butte County
Don't wait to get in touch with one of our highly regarded personal injury and wrongful death attorneys in your area if you or a loved one has been wounded in a car accident. Please don't hesitate to call or write us if you have any questions regarding filing a claim or would like to schedule a meeting with one of our lawyers.
Our trusted Butte County car accident lawyers at Arash Law, led by Arash Khorsandi Esq., have the recognition and vast experience to advocate for accident victims, with awarded compensation totaling $400 million as of yet. Contact (888) 488-1391 or click the "Do I Have a Case?" on our website to schedule a free consultation with one of our lawyers.