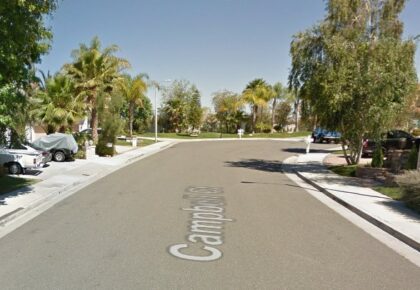 A woman walking her small dog was injured after being attacked by a Rottweiler in Los Angeles County on Thursday afternoon, March 16, 2023.
According to the Los Angeles County Fire Department, who responded to the dog attack, it occurred around 12:15 p.m. on Campbell Court in Stevenson Ranch.
A witness stated that the woman was walking her small white dog in the neighborhood when the attack happened. After getting her dog out of the Rottweiler's mouth while on the ground, it then went after her.
The witness helped the woman whose left arm had been bitten to prevent the dog from going after her throat. The witness and her husband then assisted the person walking the Rottweiler to get the dog back on its leash and located the injured small dog.
The woman was taken to the hospital in an unknown condition and with unspecified injuries, while the injured dog was sent to the vet.
The Rottweiler was confined and kept inside a house. The investigation into the attack continues.

Dog Bite Injury Statistics
Around 800,000 people require medical attention each year due to dog bites, as reported by the Centers for Disease Control and Prevention. Victims of dog bites and attacks disproportionately consist of children.
In the year 2019, the Golden State of California has seen more deadly dog attacks than any other state in the United States. At least 15 kids and 21 adults were killed by dogs in 2018, reported an official estimate.
Many states have quite different laws concerning dog attacks. The processes provided in California Penal Code Section 3342 must be followed by juries in cases involving dog attacks.
In public or private spaces where dogs are permitted, the owner is legally and financially responsible for any harm caused by their pet.
What to Do After a Dog Attack
When many dogs attack a person, the situation can become extremely chaotic and dangerous. If the person survives, they may have superficial injuries like cuts and scrapes or more serious ones like fractures and dislocations. If the dog was not up-to-date on its rabies vaccinations, the person who was bitten by it may need to get vaccinated against rabies or take other precautions.
Puncture wounds from dog bites are notoriously unpleasant and can take weeks to heal.
Medical attention should be sought immediately following a dog attack. If you can get medical assistance soon after sustaining these wounds, your prognosis may improve. Afterward, contact a California dog bite attorney from our law firm right now. In order to help you file a claim for damages, we offer a free consultation with no strings attached.
Dog Accident Lawyers in Los Angeles County
Because dog bites are getting more common than ever, people should be very careful around canines. When encountering dogs in the street or anywhere, be calm and give them space.
Our trusted Los Angeles County dog bite injury lawyers at Arash Law, led by Arash Khorsandi, Esq., have extensive experience and accolades advocating for accident victims. Our clients have been awarded compensation totaling $400 million.
Call (888) 488-1391 now or click the "Do I Have a Case?" on our website to set up a free consultation with one of our attorneys.