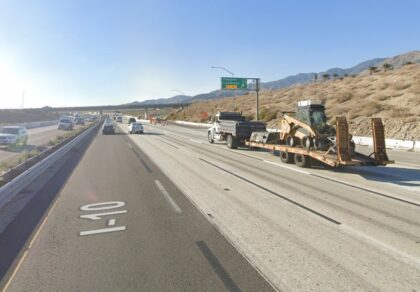 One person was killed while another was injured following a two-vehicle collision in Riverside County on Thursday morning, March 16, 2023.
The California Highway Patrol reported that the fatal crash occurred around 8:50 a.m. on eastbound Interstate 10 near Haugen-Lehmann Way, west of Whitewater.
The circumstances that led to the collision remain unclear, but a van and a car reportedly collided in the highway's slow lane. The responders from the Riverside County Fire Department extricated one person from the smaller vehicle.
Gravely injured, the person was declared dead after being taken out of the car. The other driver sustained minor injuries and declined to be brought to a hospital after being treated by paramedics at the scene.
Four of eastbound I-10's five lanes were closed for the initial investigation and clearing operation. A SigAlert was issued around 10:00 a.m. due to the miles-long traffic jam.
No further details were immediately available as the investigation continued. Whether speeding or intoxication played a role remains to be seen.

Fatal Two-Vehicle Accident Statistics
Most accidental deaths and injuries in the United States occur in motor vehicle collisions. More than two million people are murdered and ten times that number are injured every year as a result of traffic-related incidents around the world.
There was an 8.3 percent increase in fatalities due to car crashes in the United States in 2020, reports the National Safety Council. After three years of decline, this happened. In 2019, there were 39,107 people killed in motor vehicle accidents. In 2020, there were a total of 42,338.
Additionally, there were 3,847 fatalities due to car accidents in California in 2020. Of those killed, approximately 41%, or 1,587, were involved in accidents involving several vehicles. One-vehicle accidents accounted for 59% of all fatalities (2,260).
What to Do After a Car Accident
Call the police right away if you or a loved one are involved in a car crash. Always tell the truth and don't make any assumptions while dealing with authorities or insurance companies. Some victims may feel responsible for apologizing, even though they haven't done anything wrong. If claimants behave in this way, insurance firms have the option of not paying out claims.
If you ask for it, the authorities should give you a copy of the final report. If you need to reach us immediately, please fill out the brief online form provided below. As soon as we receive your inquiry, we will get to work on it. If you're worried about the strength of your case, don't hesitate to contact our highly renowned attorney for a free, no-obligation consultation.
Car Accident Lawyers in Riverside County
If you or a loved one has been hurt in a car crash, don't hesitate to call and schedule a free consultation with one of our well-respected personal injury and wrongful death attorneys in your region. If you have any concerns about making a claim or want to book a consultation with one of our attorneys, please contact us by phone or email immediately.
Our trusted Riverside County car accident lawyers at Arash Law, led by Arash Khorsandi Esq., have the recognition and vast experience to advocate for accident victims, with awarded compensation totaling $400 million as of yet. Contact (888) 488-1391 or click the "Do I Have a Case?" on our website to schedule a free consultation with one of our lawyers.