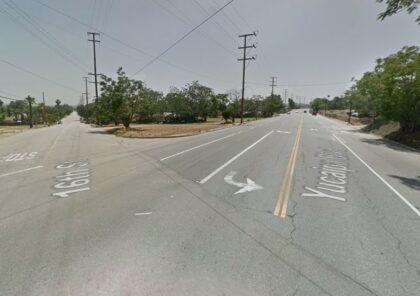 One person was killed while two children were trapped after a rollover crash in San Bernardino County, on Thursday evening, March 16, 2023.
According to local authorities, the single-vehicle crash occurred around 7:14 p.m. east of 16th Street on Yuicapa Boulevard.
When authorities came to the rescue, they discovered two children trapped inside the vehicle and one deceased driver.
The driver was identified as Behrooz A., a 40-year-old resident of Redlands. He was presumed to have been speeding and lost control of the vehicle westbound on Yuicapa Blvd.
Currently, investigations are still underway. If you have any information about the crash, please contact Deputy P. Tormey or Deputy S. Theis of the Yucaipa Patrol Station.

Fatal Single-Vehicle Crash Statistics
More than 60% of all fatal auto accidents involve a single vehicle, a 9.4% increase from 2019 to 2020. 43% of the participants were injured in total. Speeding, drunk driving, and insufficient passenger safety are all contributing factors in a number of these collisions.
Traffic accidents are the eighth leading cause of death worldwide, accounting for most deaths among children and teenagers.
Driving fatalities in the United States in 2020 were 1.37 per 100 miles. In the first quarter of 2021, there were 18.4% more road fatalities than the year before.
A single-vehicle collision could result from several factors. When a driver speeds or suddenly turns on a slick, wet road, they lose control of their vehicle and have a run-off-the-road accident. Branch fragments and other debris left by trucks may be found all over the streets.
Using a seatbelt, staying alert, and avoiding distractions while driving can lower your risk of experiencing these incidents. Even with safety measures in place, traffic accidents still happen.
What To Do Following an Accident
If you contact the police station in your area, you can get a copy of the accident report. They can assist you in getting the necessary information about acquiring a copy of your report. If you have trouble obtaining one from the police, we can provide assistance by simply filling out our online form.
When we have received your request, we will initiate the claims process on your behalf at no initial cost to you. We will continue working with you until we have collected all the necessary information and paperwork for your claim.
Award-Winning Car Accident Lawyers in San Bernardino County
Car accidents frequently result in serious injuries, both physiological and psychological. There may be lengthy legal proceedings as well as costly hospitalization and medical care. Unfortunately, things usually go wrong in these situations.
After going through a traumatic event, the first person you should speak with is a lawyer. Claim filing time is crucial to protecting your legal rights.
Our San Bernardino County car accident lawyers at Arash Law, led by Arash Khorsandi, Esq., can help you pursue the fair settlement you deserve. Our firm has successfully recovered millions of dollars for clients in similar cases over the years.
Our legal team will work on a contingency fee basis to guarantee you receive compensation for your losses without requiring any upfront payment.
For a no-obligation consultation, call us today at (888) 488-1391 or contact us by filling out our "Do I Have a Case?" form.