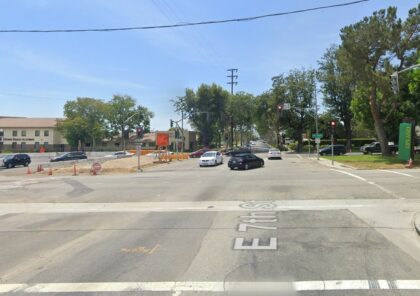 One was killed, and at least two others were injured following a car crash overturning a vehicle in Upland on Thursday morning, March 16, 2023.
According to the San Bernardino County Fire Department, the fatal collision occurred around 3:00 a.m. at the intersection of 7th Street and Euclid Avenue.
The responding officers discovered an overturned vehicle upon arrival. It remains unclear what exactly led to the crash and how many vehicles were involved.
Three people were found trapped inside the wreckage and were extricated. One of them was beyond medical help and was declared dead. No further details on the other occupants' condition were immediately available.
The victim's identification was withheld until the next of kin was notified. No other information was released as the investigation continued.

Car Accident Statistics
The majority of accidental deaths and injuries in the United States each year are caused by automobile collisions. Each year, more than two million people are killed in automobile-related incidents worldwide, and ten million more get injuries.
There was an increase of 8.3 percent in fatalities involving motor vehicles in the United States in 2020, according to the National Safety Council. This followed three years of decrease. In 2019, 39,107 people died in motor vehicle collisions. By the year 2020, there were 42,338 of them.
A total of 3,847 people lost their lives in car accidents in California in 2020. Multi-vehicle incidents involving two or more cars accounted for 41% of all fatalities, with 1,587 deaths. One-vehicle collisions accounted for 59% of fatalities (2,260).
What to Do After a Car Accident
A car accident involving you or a loved one must be reported to the proper authorities immediately. When dealing with authorities or insurance companies, it is imperative that you always be forthright and avoid making any assumptions. Despite having done nothing wrong, some victims may feel they must apologize. If the victim engages in such behavior, the insurance company may choose not to pay out.
You are entitled to receive a copy of the final report from the relevant authorities. If you need to get in touch with us right away, please use the brief online form provided below. After we receive your inquiry, we will immediately begin processing it. If you have concerns regarding the financial outcome of your case, please contact our reputable attorney for a free, no-obligation consultation.
Car Accident Lawyers in San Bernardino County
If you or a loved one has been hurt in a car accident, call our highly regarded personal injury and wrongful death lawyers in your region right now to schedule a free consultation. If you need help with a claim or want to meet with one of our lawyers, please don't hesitate to contact us.
Our trusted San Bernardino County car accident lawyers at Arash Law, led by Arash Khorsandi Esq., have the recognition and vast experience to advocate for accident victims, with awarded compensation totaling $400 million as of yet. Contact (888) 488-1391 or click the "Do I Have a Case?" on our website to schedule a free consultation with one of our lawyers.