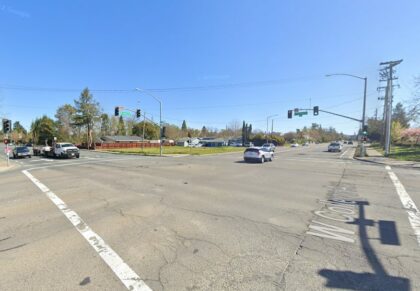 A driver was arrested after a DUI crash hospitalized two people in Santa Rosa on Thursday night, March 16, 2023.
According to reports, the crash occurred around 7:08 p.m. at Stony Point Road and West College Avenue.
Authorities were dispatched to the scene and discovered a gray Honda van was traveling northbound toward West College Avenue when it struck three vehicles.
A seven-week pregnant woman complained of back pain and a headache, and a man, with pain across the left side of his body, was transported to the hospital. Details on their condition remain unknown.
Witnesses pointed officers toward the van's driver, who fled the scene on foot.
Officers found the 24-year-old driver, Luis P., Luis Perez exhibiting signs of intoxication and matching the witnesses' description.
Upon arrest, the suspect was booked into Sonoma County jail on suspicion of DUI, driving with a blood alcohol content of more than 0.08%, and causing injuries in a hit-and-run.

DUI Crash Statistics
A report by the National Highway Traffic Safety Administration states that approximately 32 people per day, or one every 45 minutes, are killed in drunk-driving accidents in the United States.
In 2020, 11,654 traffic deaths occurred due to drunk driving, a 14% increase from 2019. According to the California DUI Management Information System, alcohol-related collision deaths increased by 5.8% in 2017 after rising by 6.9% in 2016.
Drunk driving endangers drivers, other road users, and the environment. Intoxicated drivers waste approximately 2 billion gallons of fuel each year.
These statistics demonstrate that everyone should be aware of their drinking habits and never drive after exceeding recommended alcohol limits.
If you have been involved in an accident, we can help you obtain a police report.
We simply need to know what happened and where it happened. We will then contact the appropriate parties and obtain all the necessary information for you.
We handle this process for each client, so you won't need to worry about whether your insurance will cover any damage or injuries. We'll take care of everything!
Trusted DUI Accident Lawyers for Victims in Santa Rosa
If you were injured in a DUI accident, you might experience various emotions. You may express rage, confusion, or fear. You're probably curious about what happens next.
If a negligent driver causes you harm, your losses may be compensated. Medical expenses and lost wages may result in financial difficulties for victims of these accidents.
The chances of surviving a DUI accident are incredibly slim. California's injury laws will protect you if you are injured in a DUI collision.
Our Santa Rosa DUI accident lawyers at Arash Law, headed by Arash Khorsandi, Esq., will fight diligently on behalf of their clients in such cases. Intoxicated drivers should be subject to legal repercussions and financial penalties when they risk the lives of others.
Our clients trust us to aggressively pursue the maximum settlements possible to obtain life-saving medical care and provide for their families. Don't hesitate to call us today at (888) 488-1391 or complete our online "Do I Have a Case?" form.