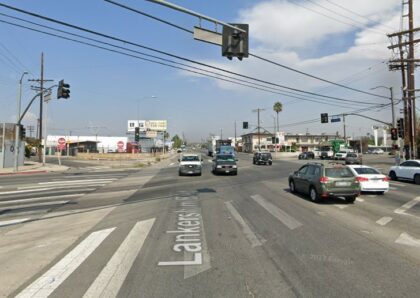 A male bicyclist was killed after being struck by a vehicle that fled the scene in Los Angeles on Friday morning, March 17, 2023.
The Los Angeles Fire Department reported that the fatal hit-and-run crash occurred around 6:20 a.m. at 8400 Lankershim Boulevard in the Sun Valley neighborhood.
The paramedics responded and declared the man dead at the site. No further information on his identity was released.
The vehicle that fled the scene was described as a possible GMC truck. No other description was known at the moment.
Anyone with information is urged to contact the authorities as the search and investigation continue.

Fatal Hit-and-Run Accident Statistics
It is against the law in the United States to abandon the scene of a car accident without helping the hurt and/or informing the authorities. Causing an accident and then fleeing the scene is a crime that might land you in jail.
National Highway Traffic Safety Administration statistics show that there were 737,100 hit-and-run accidents in the United States in 2015. According to these statistics, a hit-and-run occurs once every 43 seconds in the USA. In 2016, 2,049 persons were murdered in hit-and-run accidents, marking a new high.
Between 2010 and 2019, 2,948 hit-and-run accidents in California claimed 3,056 lives. The fatality tolls from accidents of this type tend to be quite high in California compared to other states in the whole country.
What to Do After a Hit-and-Run Accident
In the event that you or a loved one are engaged in a hit-and-run accident, it is crucial that you contact the authorities without delay. It's crucial to be forthright and not make any assumptions while communicating with law enforcement or insurance companies. Some victims may feel obligated to apologize even if they are innocent. If the victim behaves like that, the insurance company will not pay out.
The proper authorities can provide you with a copy of the final report upon request. To contact us, please fill out the brief online form provided below. We'll get right on it once we get your message. If you have any concerns regarding the strength of your case, feel free to contact our well-respected attorney for a no-cost, no-obligation consultation.
Hit-and-Run Accident Victim Lawyers in Los Angeles County
In California, victims of hit-and-run accidents have the choice of seeking compensation through insurance claims or litigation. If you or a loved one has suffered severe injuries or wrongful death due to the carelessness of another, do not hesitate to get in touch with one of our highly renowned attorneys.
Our trusted Los Angeles hit-and-run accident victim lawyers at Arash Law, led by Arash Khorsandi Esq., have experience and accolades advocating for accident victims, with awarded compensation totaling $400 million.
Call (888) 488-1391 now or click the "Do I Have a Case?" on our website to set up a free consultation with one of our attorneys.