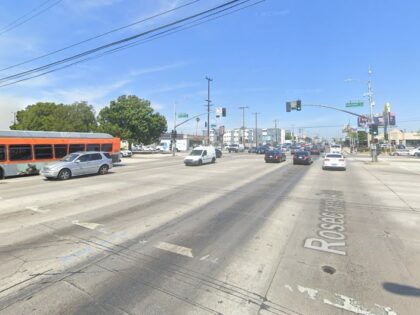 Two people were sent to the hospital after a two-vehicle crash in Gardena early Friday morning, March 17, 2023.
The deadly collision reportedly occurred around 3:00 a.m. at Rosecrans and Vermont avenues.
Authorities said that a vehicle traveling at a high rate of speed reportedly ran a red light, causing two cars to collide.
Due to the impact, two people were hospitalized with unknown conditions. Details on their identity have not been released.
The southbound lanes of Vermont Avenue were expected to remain closed for several hours while authorities investigated.

Two-Vehicle Crash Statistics
U.S. traffic fatalities have increased significantly over the past few years. According to estimates, approximately one million people die in car accidents yearly. Each day, 3,287 people are killed in these collisions.
About 20 to 50 million non-fatal injuries from car accidents lead to permanent disability. It has been responsible for 8% of the state's fatal accidents in the past decade.
According to the NHTSA's Fatality and Injury Reporting System Tool, California has seen an increase of 33% in car accidents since 2010.
Traffic accidents cause substantial financial losses to individuals, their families, and nations. Injury costs include medical bills, lost work time, and reduced productivity.
When driving, keep a safe distance behind and in front of you, watch out for possible dangers, and follow all traffic laws. Even with these precautions, automobile accidents continue to claim the lives of countless people.
What Should You Do Following an Accident?
We are aware that this is a difficult time for you. We can provide you with a police report for this incident. Count on our team to contact the right people and obtain the report on your behalf. You can seek compensation for your injuries once you initiate the claims process.
We handle everything, including filing your claim, so you don't need to pay us upfront. As part of our service, we will ensure that the responsible party's insurer pays all medical bills.
Feel free to contact us if you have any questions about how to proceed after an accident like this.
Award-Winning Car Accident Lawyers in Gardena
California car accident victims can sue for financial damages when an accident results in injury or death. By pursuing a personal injury claim, you can seek compensation for losses such as medical expenses and lost income.
You must have confidence in the legal system and the attorney representing our firm at this difficult time. Our legal team will communicate with the insurance company to help you obtain a more favorable settlement.
Our trusted and award-winning Gardena car accident lawyers at Arash Law, headed by Arash Khorsandi, Esq., have years of experience defending accident victims in these legal proceedings. Over $400 million in compensation has been awarded to our clients.
To schedule a consultation with a legal team member, call (888) 488-1391 or click the "Do I Have a Case?" section on our website.