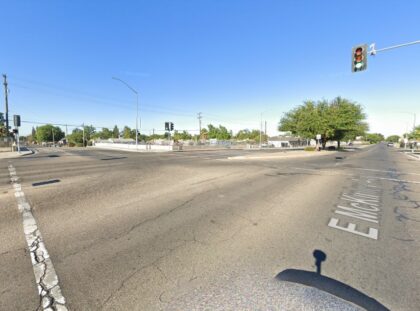 One person sustained minor injuries after a car smashed through a house in Fresno on Saturday night, March 18, 2023.
According to authorities, the crash occurred around 9:30 p.m. near McKinley and Millbrook.
Reports stated that the victim was alone playing video games when the yellow Camaro crashed into their home.
Due to the impact, the victim, Deshaun L., was pinned inside the house and sustained minor cuts and bruises.
According to the victim, he was between the chair and the couch when he heard this big boom and turned around to see dust everywhere.
He added that people in the car jumped out, assisted him in freeing his leg, and then fled down the street.
The victim's mother added that their home contains everything they own. The family was advised not to go inside because it was unsafe.
Further investigations into the crash are currently ongoing.

Reckless Driving Accident Statistics
Reckless driving significantly contributes to traffic accidents, road rage, and fatal highway accidents in the United States annually. As defined by the National Highway Traffic Safety Administration, aggressive driving involves violating traffic laws repeatedly to endanger others.
In a 2009 American Automobile Association study, 56% of fatal crashes between 2003 and 2007 involved aggressive driving.
The National Highway Traffic Safety Administration's Fatal Accident Reporting System shows excessive speed as the leading cause of fatal accidents.
California classifies reckless driving as a serious traffic violation or an extreme driving crime. It is common to use the terms "driving," "reckless," "careless," and "improper" interchangeably. No matter what you call them, they significantly increase the likelihood of fatal car accidents.
A person who drives aggressively or recklessly puts the lives of others in danger. Third parties should not be injured by negligent driving. The drivers responsible for the damage and deaths caused by these drivers must be held accountable.
What Should You Do After an Accident
It is wise to file a police report after collecting information, assuming it is safe. In this way, the police can keep track of what happened and hold those accident records on a central database, ensuring that this information is securely stored in one place.
The police usually attend the scene of an accident in any event, but if they do not, you can contact your local police by phone or in-person to file an accident report. If the police are not present when the collision occurs, they will collect the information and provide a police report afterward.
Reckless Driving Accident Attorneys for Victims in Fresno
Most car accidents are caused by legal negligence. To establish that the other driver was at fault in a careless driving accident, your California accident lawyer will investigate intentional behavior or "negligence per se." The consequences of deliberate behavior, like drunk driving, carry a higher risk since it is voluntary.
Injured pedestrians, passengers, or other road users may be able to establish negligence per se liability. Reckless driving is prohibited under the California Vehicle Code, and negligence is a violation. A skilled California reckless driving accident attorney is essential to a successful claim in either scenario.
Having witnessed collisions first-hand, we know the devastation they can cause. As a firm, we'd appreciate drivers avoiding them. Our firm represents people and families that have lost loved ones due to negligent driving to obtain the compensation they deserve.
Our Fresno reckless driving accident attorneys at Arash Law, headed by Arash Khorsandi, Esq., help people who otherwise can't speak out. Call (888) 488-1391 today for a free consultation, or complete our "Do I Have a Case?" form online.