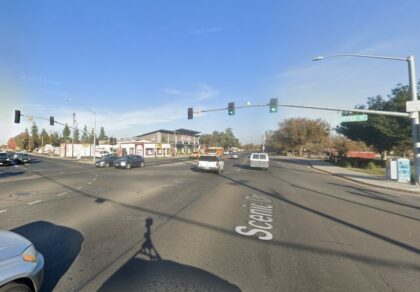 A woman died while a man was critically wounded after their vehicle crashed into an embankment in Modesto on Saturday morning, March 18, 2023.
The Modesto Police Department reported that the fatal single-vehicle crash occurred shortly after 11:00 a.m. at the intersection of Scenic Drive and Coffee Road.
The authorities received multiple reports of a gray pickup truck going over an embankment into Dry Creek, making it difficult for the responders from the Modesto Fire's Technical Rescue Team to get to. The circumstances that led to the crash remain under investigation.
A female passenger was declared dead at the scene. The male driver was reportedly awake and conscious. He was extricated and sent to the hospital with major injuries. No further details were released on their identities and the driver's condition.
Alcohol or drug use did not seem to have contributed to the crash. There is currently no additional information available as the investigation continues.

Fatal Single-Vehicle Accident Statistics
In the United States, automotive accidents are the leading cause of accidental death and injury each year. Every year, over two million people are killed and ten million are wounded as a result of automobile-related incidents around the world.
The National Safety Council reported an 8.3 percent rise in the number of U.S. citizens killed in motor vehicle accidents in 2020. In the three years before this, the numbers had been steadily falling.
There were 39,107 fatalities caused by automobile accidents in the United States in 2019. The total number of deaths in 2020 rose to 42,338.
The year 2020 had 3,847 fatalities in California due to automobiles. A total of 1,587 or 41% of those deaths were the result of accidents involving multiple cars. Single-vehicle accidents accounted for the majority of fatalities (59%) with 2,260 deaths.
What to Do After a Car Accident
If you or a loved one have been in a car accident, it is imperative that you contact the authorities immediately. Whether communicating with law enforcement or an insurance company, it is crucial to be forthright and not assume anything. Even if they did nothing wrong, some victims may feel they must apologize. If the victim participates in such conduct, the insurance company will not pay any damages.
The authorities will provide you with a copy of the final report if you ask for one. Simply submit the short online form below to get in contact with us. Quick action on your message will be taken. If you have questions about the strength of your case, you can talk to our nationally acclaimed attorney for free.
Car Accident Lawyers in Stanislaus County
Call our highly regarded personal injury and wrongful death attorneys in your area today to book a free consultation if you or a loved one has been hurt in a car accident.
Please get in touch with us as soon as possible if you have any questions about filing a claim or would like to schedule a consultation with one of our attorneys.
Our trusted Stanislaus County car accident lawyers at Arash Law, led by Arash Khorsandi Esq., have the recognition and vast experience to advocate for accident victims, with awarded compensation totaling $500 million as of yet.
Contact (888) 488-1391 or click the "Do I Have a Case?" on our website to schedule a free consultation with one of our lawyers.