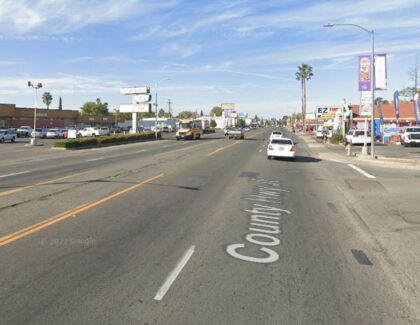 A male pedestrian was killed after being struck by a vehicle that fled the scene in South Sacramento on Sunday morning, March 19, 2023.
The Sacramento Police Department reported that the fatal hit-and-run crash occurred at about 6:00 a.m. on Franklin Boulevard near 26th Avenue.
The responding officers located an adult man with serious injuries on the scene upon arrival. The unidentified victim was taken to a nearby hospital and eventually passed away.
The driver that hit the man reportedly fled the scene after the crash. No further information was immediately available on the vehicle's description.
Franklin Boulevard from 26th to 27th avenues was shut down in both lanes as the investigation by the authorities continued.
Anyone who may have seen the deadly crash is encouraged to contact the authorities.

Fatal Hit-and-Run Accident Statistics
In the United States, it is illegal to flee the scene of an automobile accident without providing aid to the injured and/or notifying the police. To cause an accident and then flee the scene is a criminal act, punishable by imprisonment.
Data from the National Highway Traffic Safety Administration shows that there were 737,100 hit-and-run accidents in the United States in 2015.
These numbers show that every 43 seconds, someone committed a hit-and-run in the United States. In 2016, a record 2,049 people were killed in hit-and-run accidents.
A total of 3,056 people lost their lives as a result of 2,948 hit-and-run events in California between 2010 and 2019. Around the country, California has one of the highest death tolls from these types of accidents.
What to Do After a Hit-and-Run Accident
Call the police right away if you or a loved one has been involved in a hit-and-run crash. It is essential to be honest and not make any assumptions while speaking with authorities or insurance companies. Some of the victims might apologize even though they were completely blameless. In such a case, the insurance company may use the behavior as evidence against a claim.
If you ask for it, the authorities will give you a copy of the final report. Just fill out the quick form below to get in touch with us. A prompt response will be given to your inquiry. For free, you can consult with our nationally renowned attorney about the viability of your case.
Hit-and-Run Accident Victim Lawyers in Sacramento
Victims of hit-and-run accidents in the Golden State can file insurance claims or file lawsuits to recover damages. Do not wait to get in contact with one of our world-famous lawyers if you or a loved one has been seriously hurt or killed due to the negligence of another.
Our trusted Sacramento hit-and-run accident victim lawyers at Arash Law, led by Arash Khorsandi Esq., have experience and accolades advocating for accident victims, with awarded compensation totaling $400 million.
Call (888) 488-1391 now or click the "Do I Have a Case?" on our website to set up a free consultation with one of our attorneys.