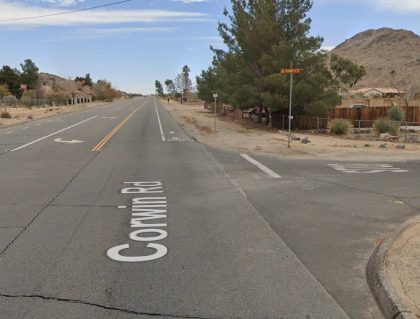 Two people were injured in an accident in Apple Valley on Monday evening, March 21.
The collision occurred at 5:35 p.m. at the intersection of Rimrock Road and Corwin Road in Apple Valley.
The Apple Valley Fire Protection District firefighters arrived within minutes on the scene and discovered two heavily damaged vehicles: a pickup truck and an SUV.
A vehicle had to be extricated from one of its occupants. A helicopter was requested to land at Desert Valley Hospital and transport the person to Loma Linda University Medical Center.
The second person only sustained minor injuries.
The crash remains under investigation.


Two-Vehicle Crash Statistics
A car accident occurs somewhere in the United States every sixty seconds. As millions of vehicles traverse American highways each day, these figures are not shocking.
In the United States, car accidents are the leading cause of injury. An estimated 2 million people are injured or killed as a result of car accidents each year.
Automobile accidents are also the leading cause of death and serious injury in the United States for people aged 2 to 34.
At least four million people are injured in car accidents each year in the United States. Car accidents claimed the lives of 36,560 people last year, according to the US Department of Transportation's Fatality Analysis Reporting System (FARS).
Unfortunately, even the most cautious motorists can be involved in an accident due to factors outside of their control, resulting in injury or death.
San Bernardino County Car Accident Lawyer for Injured Victims
If a person is seriously injured in a car accident, legal action should be taken to minimize the impact on their life.
Car accidents that result in serious injuries require immediate legal action. Our personal injury attorneys believe that you should file a personal injury claim as soon as possible following a car accident in order to protect your legal rights.
The best place to begin is by speaking with an experienced car accident lawyer. You will receive legal advice after a lawyer examines your car accident.
Our San Luis Obispo County car accident lawyers at Arash Law will work tirelessly on your behalf to ensure that any compensation you receive takes into account all of your losses. Lost wages and medical expenses are covered as well as any future medical or financial needs. If the insurance company refuses to cooperate, we are prepared to take the matter to court.
To schedule a free legal consultation, call Arash Law today. Personal injury attorneys at Arash Law can be reached at (888) 488-1391 for a free initial consultation.