One unidentified woman was killed, while two others were injured after a traffic collision on Lilac Road on Tuesday night, March 22, 2022.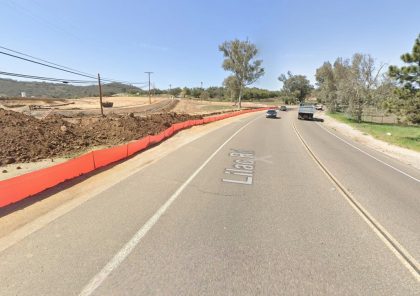 The fatal collision occurred at approximately 5:50 p.m. in the area of Lilac Road, just west of Via Piedra in Valley Center.
A 62-year-old man was traveling eastbound in a grey Lexus ES 350 on Lilac Road when he swerved into the westbound lanes for unclear reasons.
The grey Lexus ES 450 then crashed into a black Chevrolet Bolt driven by a 73-year-old man.
The Lexus driver and the Chevrolet driver, and a female passenger inside the Chevrolet were rushed to Palomar Medical Center for treatment.
Unfortunately, the female passenger could not survive her injuries and was pronounced dead before they arrived at the hospital.
The two drivers sustained major injuries in the mishap. The identities of the involved parties have not been disclosed.
It's unclear whether intoxication played a role in the crash. Local authorities are further investigating the cause of the collision.


Fatal Two-Vehicle Crash Statistics
The overall death rate and the death rate as a percentage of the population have fallen after two decades. The trend began to alter in 2015, and it has since continued to grow.
According to the National Highway Traffic Safety Administration, 37,461 people were killed in 34,436 car accidents in 2016, 102 people each day.
The sunny beaches of San Diego attract a lot of people. Our beautiful beaches and year-round sunshine keep the tourism industry thriving.
However, this causes heavy traffic across the San Diego metropolitan region. The greater the volume of vehicles, the more likely an accident may occur. San Diegans are well-acquainted with the challenging areas on Interstate 5, which is frequently congested from downtown near the airport up the coast towards La Jolla.
According to California Highway Patrol data, San Diego, Chula Vista, and Oceanside were the top three cities in San Diego County for car accidents in 2018. San Diego County experienced 21,534 car accidents in 2016, a 5% increase from the previous year.
Fatal Car Accident Lawyers for Victims in San Diego County
It's never easy to lose a loved one in a sudden car accident. Even if it's difficult at first, you'll get used to it. If a loved one has been killed in a car accident, you should contact a San Diego car accident lawyer.
A skilled attorney can help you collect the damages that the accident has caused you by filing a wrongful death claim. A wrongful death lawsuit will compel the person found responsible for covering the victim's medical fees, funeral costs, pain and suffering, and loss of companionship.
In a fatal car accident, you should get legal advice from an experienced wrongful death attorney as soon as possible. These types of instances are nothing new for the attorneys at Arash Law, who specialize in personal injury and wrongful death.
To focus on your recovery as quickly as possible, let a professional San Diego accident attorney fight for the compensation you deserve. The knowledgeable accident lawyers at Arash Law are here to assist you. Set up a free consultation by calling (888) 488-1391.