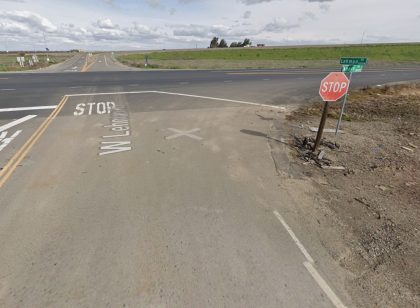 One unidentified person was killed following a deadly traffic crash in Tracy on early Tuesday morning, March 22, 2022.
The fatal collision occurred at approximately 6:40 a.m. on Highway 33, near West Lehman Road in Tracy.
A white work truck and a white Hyundai sedan were involved in the collision. The circumstances leading up to the crash have not been established.
One person had to be extricated from the wreckage by emergency personnel. One person was killed as a result of the crash. It's unclear whether the extricated person was the one killed in the mishap.
Both vehicles were seriously damaged in the crash. Information about the accident is limited at the moment.
Local authorities are further investigating the case.


Fatal Car Crash Statistics
Automobile accidents are the leading cause of injury in the United States. Up to two million people are wounded in car accidents each year.
Every sixty seconds, a car accident occurs in the United States. According to the National Highway Traffic Safety Administration last year, car accidents killed almost 3,300 individuals in California.
According to the National Safety Council, car accidents account for 11% of all fatalities. In 2019, over 276,823 people were injured, and 3,898 people were killed in car accidents in California. The frequency of car accidents has increased by 23.5 percent since 2013.
Car accidents are frequently caused by distracted driving, drunk driving, mechanical failure, speeding drivers, and tired drivers.
According to one OTS research, approximately 57 percent of Californians believe driving ten mph over the speed limit on the state's freeways is acceptable. Almost 40% of those polled felt they were unlikely to receive a ticket for exceeding the speed limit by 10 miles per hour.
Fatal Car Accident Lawyers for Victims in San Joaquin County
While it's normal to feel overwhelmed amid such an accident, it's likely crucial to the successful conclusion of your claim that you contact expert legal representation.
When a loved one dies in a car accident, it's natural to wonder how you'll ever get back to your everyday routine. It's impossible to get your life back to normal overnight, but you can learn to cope and start over.
An experienced fatal car accident lawyer is often helpful to families who have lost a loved one in a catastrophic car accident.
Our skilled San Joaquin County fatal crash attorneys at Arash Law are dedicated to helping you get the compensation you deserve. It's our job to protect the rights of accident victims, and we've done it for decades.
Call our office at (888) 488-1391 today to speak with one of our experienced attorneys. We're here for you around the clock, seven days a week.