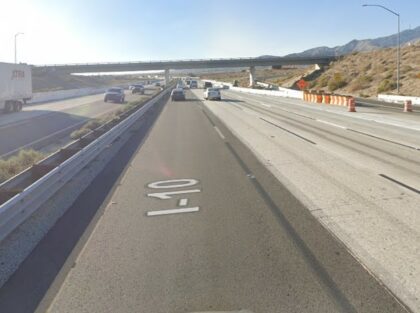 Six people sustained injuries following a two-vehicle collision in Banning, Riverside County, on Thursday morning, March 23, 2023.
The Riverside County Fire Department reported that the crash occurred shortly after 9:00 a.m. at 160 West Nicolet Street, about half a mile north of Interstate 10.
The responding officers and engine crews arrived at the scene and located two vehicles mangled together in the center of the two-lane roadway. It was unclear how the collision happened.
Both vehicles' occupants suffered injuries. Five people were brought to a hospital for treatment after sustaining minor injuries. Another person was hospitalized for moderate injuries. The parties involved were not named.
No further information was available as the Banning Police Department continued its investigation. It's unknown whether intoxication or speeding played a role.

Two-Vehicle Accident Statistics
Vehicle collisions account for the great majority of preventable injuries and deaths in the United States. Worldwide, traffic accidents cause about 10 million injuries and 2 million deaths annually.
According to the National Safety Council, the number of people killed in traffic accidents in the United States rose by 8.3 percent in 2020. These numbers have been falling steadily for the previous three years before 2020.
There were 39,107 people killed in car accidents in the United States in 2019. In 2020, that figure increased to 42,338.
In 2020, there were 3,847 people killed in car accidents in California. Accidents involving several vehicles accounted for 1,587 deaths (or 41%) of the total. More than half, or 2,260 (59%) lives, were lost in single-car accidents.
More than three-quarters (77%) of injuries, 71% of collisions with injuries, and 72% of collisions overall included two or more vehicles. Around 8,000 individuals died or were injured in angle collisions in 2020.
What to Do After a Car Accident
You must report any car collision to the authorities promptly. Always tell the truth when dealing with law enforcement and the insurance provider and avoid making assumptions. The innocent victims may say they're sorry. Such behavior could be grounds for a claim denial by the insurance company.
Contacting the relevant authorities will yield the final report. You can also fill out the online form below for convenience. We will go right to work on your problems as soon as we receive them. Our well-known attorney will offer your case the individualized attention it requires during your free initial session.
Car Accident Lawyers in Riverside County
We offer free consultations to anyone injured or who lost a loved one in a car accident and encourage you to contact us immediately if this has happened to you. Please get in touch with us as soon as possible if you have any questions about the claims procedure or would like to speak with one of our attorneys.
During this complimentary consultation, one of our knowledgeable attorneys will assess your case, walk you through the next steps, and explain the variables that could impact the final settlement amount.
Our trusted Riverside County car accident lawyers at Arash Law, led by Arash Khorsandi Esq., have the recognition and vast experience to advocate for accident victims, with awarded compensation totaling $400 million as of yet.
Contact (888) 488-1391 or click the "Do I Have a Case?" on our website to schedule a free consultation with one of our lawyers.