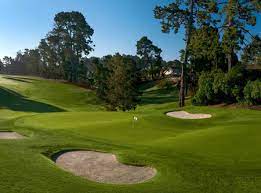 A junior varsity golfer was hospitalized after being struck by a large, fallen Monterey Cypress branch during a practice round in Santa Cruz County on Thursday, March 23, 2023.
According to authorities, the accident occurred near the cart path, halfway between the tee box and green on the 196-yard, par-3 16th hole at Seascape Golf Club.
Responders on the scene treated the conscious boy before transporting him to a hospital outside of Santa Cruz County for treatment.
The tree appears to be taller t the fallen limb had been sawed and removed.han 30 feet. One of the large branches that fell was about 8 inches in diameter. By Friday evening, parts of the fallen limb had been sawed and removed.
Recent storms in the region severely damaged the course's cypress, eucalyptus, and Monterey pine trees. On Monday, the area was also hit by winds of 50-70 mph.
Authorities have not released further details on the victim's condition and identity. Further investigations are still ongoing.

What Should I Do Following an Accident?
We know that this is a challenging time for you. Our staff can assist you in obtaining a police report for this incident. With the help of our team, you will be able to get the report from the correct people. Afterward, you can initiate the claims process to seek compensation for your injuries.
You do not have to worry about paying us upfront – we will handle everything, including filing the claim on your behalf. Additionally, we will ensure that you are reimbursed for all of your medical expenses by the responsible party's insurance company.
Feel free to contact us with any concerns or questions following an accident like this.
Premises Liability Attorneys in Santa Cruz County
Landlords and building owners ensure tenants' safety during a fire. To comply with regional and state fire regulations, smoke detectors, exits, and other safety features must be installed.
Building fires can have several negative consequences, including eviction and destruction of property. Structures that have been severely damaged or destroyed cannot be salvaged. Smoke inhalation and severe burns are among the dangers firefighters face daily.
Without these precautions, landlords and building owners endanger their tenants unnecessarily. A reputable lawyer can assist you if inadequate fire safety measures are in a building that cause you harm.
If you have been injured on another person's property, contact our Santa Cruz County premises liability attorneys at Arash Law, led by Arash Khorsandi, Esq., as soon as possible. We will explain how we can help you, what damages you may be entitled to, and what steps you should take next throughout the process.
For a free case evaluation, call us today at (888) 488-1391 or fill out our online "Do I Have a Case?" form.