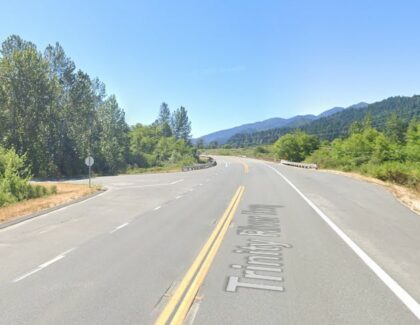 A rider sustained severe injuries after a motorcycle collision on Highway 96, Humboldt County, on Friday afternoon, March 24, 2023.
According to the California Highway Patrol Incident Information Page, the crash happened around 1:15 p.m. on Highway 96, north of Hoopa.
A motorcycle rider had a collision with a truck resulting in the rider's major injuries.
A medical helicopter was requested to rescue the rider on Highway 299 at Berry Summit.
No other information has been released as of yet.

Motorcycle Crash Statistics
According to the National Highway Traffic Safety Administration, motorcycles were to blame for 14% of traffic fatalities, 18% of fatalities among passengers, and 4% of injuries among passengers in 2020. However, only 3% of vehicles were registered, and 0.6% of all vehicle miles were traveled.
In a motorcycle collision, the rider is more at risk than the other party, and all parties could suffer serious injuries. The increased sensitivity of their bodies to impacts makes motorcycle riders more likely to experience catastrophic injuries and fatalities.
Helmets are proven to shield wearers from fatal collisions in addition to serious injuries. According to the IIHS, wearing a helmet lowers the risk of brain injuries and motorcycle fatalities by 67% and 37%, respectively.
To ensure road safety, motorcycle riders should wear protective gear like gloves, jackets, pants, and shoes.
What Should You Do After Being Involved in an Accident
Make sure the police are called and a report is filed at the scene of the accident. If you are being interviewed at the scene of the accident, you should tell the truth about what you saw and experienced. Think before you speak, and don't make assumptions about things you don't fully grasp. After an accident, the victim may feel guilty and apologize profusely, even if they were not at fault. The insurance company may use your good deed to prove you are guilty to deny your claim.
People on foot, on bikes, and in cars have all been hurt in California traffic incidents. Whether or not you were in a car at the time of the accident, we are here to help. We will investigate your legal right to compensation and keep you updated as we proceed.
Talented Motorcycle Accident Attorneys in Humboldt County
Every person who has been hurt in a motorcycle accident has undoubtedly endured both physical and mental pain. Furthermore, in addition to care costs, lost productivity must be considered.
You might be eligible for financial compensation if you or a loved one were hurt in a motorcycle accident. Attorneys play a pivotal role in determining settlement amounts for their clients in state civil courts.
Our talented Humboldt County motorcycle accident lawyers at Arash Law, headed by Arash Khorsandi, Esq., are highly skilled and ready to assist you in these legal proceedings. As a result of our work, our clients across the state have received over $400 million in compensation.
Our legal team provides free consultations and evaluations of your case. Our mission is to resolve our clients' issues and secure their due compensation.
Contact us today for a free consultation with one of our attorneys by calling (888) 488-71391 or through our online "Do I Have a Case?" form.