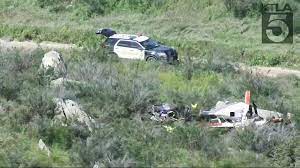 Two people were killed after a helicopter crash in Perris on Friday afternoon, March 24, 2023.
The Riverside County Sheriff's Department reported that the crash happened around 12:40 p.m. on Pulsar View Road and Chastity Road.
The two victims nor the cause of the crash are still not identified.
No further information was released.

Fatal Helicopter Accident Statistics
Even though helicopter crashes aren't frequent, recent media attention to high-profile crashes has shown that they can happen. As a result, they may also result in catastrophic damages. Even a small helicopter accident can result in millions of dollars in property damage and drastically alter the lives of dozens of people.
In 2019, there were at least 51 helicopter fatalities, up from 55 the year before. During each of those years, there were over 120 helicopter accidents.
For every 100,000 flight hours, there were 0.82 fatalities in helicopters in 2018, up from 0.54 in 2016. That represents an alarming increase of more than 50%.
Helicopter crashes can have several causes. You'll need to consult with an aviation law expert lawyer to ascertain who was responsible for the accident.
What to Do After a Helicopter Accident
You should call the authorities immediately if a helicopter accident has left you or a loved one with injuries. When communicating with law enforcement or an insurance company, you should stick to the facts and never make assumptions. Even though they did not cause the accident, the victim may feel obligated to express regret. Insurers may reject a claim based on such actions.
The relevant authorities should be able to provide you with a copy of the final report upon formal request. Please fill out the form on this page to submit your inquiry. We promise to address your concern as soon as we receive it. Your case will get the individualized attention it deserves at your free initial consultation with our well-known attorney.
Expert Helicopter Accident Lawyers in Riverside County
Sadly, many helicopter accidents end in terrible injuries or fatalities. Survivors may find it challenging to file a claim and go through the legal process while still dealing with grief. However, those responsible for causing another person's injuries must be held accountable for their deeds.
The injuries caused by the negligent actions of all responsible parties must be compensated. Due to this accountability, other people will be less likely to commit the same wrongdoing. It could help people's lives in the future.
Our expert Riverside County Helicopter Crash Injury Lawyers at Arash Law, led by Arash Khorsandi Esq., have the recognition and vast experience to advocate for accident victims, with awarded compensation totaling $400 million as of yet.
Contact (888) 488-1391 or fill out the "Do I Have a Case?" form on our website to schedule a free consultation with one of our lawyers.