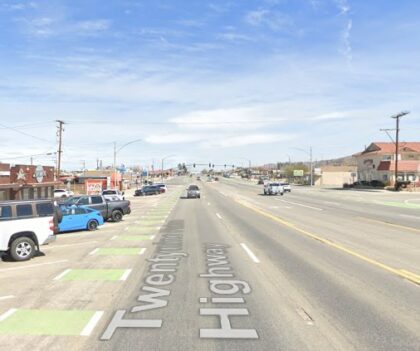 A 35-year-old scooter rider was fatally struck by a pickup truck in Joshua Tree, San Bernardino County, on Saturday evening, March 25, 2023.
According to the California Highway Patrol, the collision happened around 9:40 p.m. on Twentynine Palms Highway.
The scooter rider was traveling slowly eastbound when a 47-year-old truck driver named Aiki C. struck the scooter from behind.
The undisclosed river was rushed to the hospital, where he was declared dead on arrival.
CHP states that it is unclear if drugs or alcohol played a role, but they are currently investigating the cause of the accident.

Fatal Scooter Accident Statistics
The World Health Organization reports that powered two- and three-wheeled vehicles, including motorcycles, mopeds, scooters, and electrical bikes (e-bikes), are responsible for nearly 30% of all traffic fatalities, and the number is growing.
According to the Consumer Product Safety Commission, deaths from micro-mobility device use increased from 5 to 48, while injuries from these devices rose 127% between 2017 and 2021, reaching 77,200. E-scooters caused 68 fatalities during the same period and had the highest percentage increase in injuries.
The majority of emergency room visits involved consumer-owned e-scooters (56 percent), but incidents involving rented e-scooters were not far behind (44 percent).
A recent UCLA study found that fractures and head trauma are common among e-scooter accident victims, necessitating emergency room treatment. The study used data from 249 patients treated at UCLA Health's two hospitals, Ronald Reagan UCLA Medical Center and UCLA Medical Center, Santa Monica, between September 1, 2017, and August 31, 2018.
Researchers were able to compare data before and after the introduction of shareable e-scooters in 2020 by treating 1,354 injured patients at 180 UCLA outpatient clinics, UCLA Health emergency departments, and urgent care facilities over a longer period of time, from January 1, 2014, to May 14, 2020.
How Do I File a Report Following an Accident
With our assistance, you can obtain a police report following an accident.
You just need to let us know what happened and where it happened. We will contact the appropriate parties as soon as we have all the required information.
You don't have to worry about your insurance coverage because our team takes care of this process for each client. We'll make sure everything is covered!
Trusted Scooter Accident in San Bernardino County
After a scooter accident, dealing with an insurance company can be a hassle. You may be preoccupied with recovering from your injuries and making up for lost time at work rather than focusing on legal matters. Furthermore, proving liability or identifying the responsible party may be difficult.
If you've been in a car accident and are thinking about hiring a lawyer, you may be worried about the costs involved. The good news is that almost no personal injury lawyers require payment upfront. The lawyers who take these cases do so on a contingency basis.
You can count on our trusted San Bernardino County scooter accident lawyers at Arash Law, headed by Arash Khorsandi, Esq., to help you navigate the legal system and meet all deadlines. We can ensure the insurance company doesn't take advantage of you during the settlement process.
Schedule a no-cost consultation with our legal team through our website's "Do I Have a Case?" online form or dial (888) 488-1391.