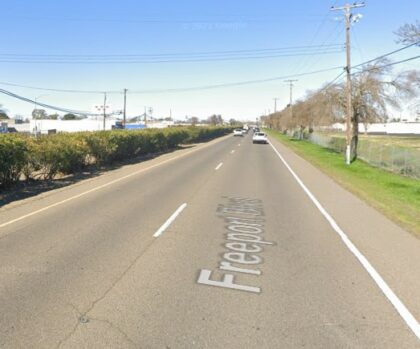 One person was injured after a truck crash in Sacramento on Tuesday, March 28, 2023.
According to authorities, the collision transpired in the morning on Freeport Boulevard near Stacia Way.
Reports indicated that an RV and a garbage truck were involved, causing the car to turn on its side. One person suffered injuries but did not require medical attention.
Roads were visibly wet in the area after a storm passed through Northern California. Officials stated that Waste Management's truck was one of the vehicles involved.
Responders tried to turn the truck upright, and investigations are currently ongoing.

Truck Accident Statistics
According to NHTSA statistics, large trucks were responsible for 8.9% of traffic fatalities in 2010 but only 3.8% of injuries and 5% of property damage. Combination trucks accounted for 64.6% of the 4,842 fatal large truck collisions.
American highways and roads are plagued with fatal collisions involving large trucks. Due to the size difference between the vehicles involved, tractor-trailer collisions are more likely to result in fatalities than other traffic collisions.
Large trucks are medium or heavy trucks weighing more than 10,000 pounds, excluding buses and recreational vehicles. This collection includes both commercial and noncommercial vehicles.
Passengers account for the vast majority of fatalities in large truck accidents. Passengers in smaller vehicles are particularly vulnerable.
Trucks frequently weigh 20 to 30 times more than passenger cars and have more height and ground clearance, so smaller vehicles may underride them in collisions.
What To Do After an Accident Occurred
As soon as you have collected the information, assuming it is safe, you should file a police report. This allows the police to keep information on what happened during the accident in one place, keep those records on file within the police department, and ensure that the data is maintained securely.
If the police are not present at the scene of an accident in any event, you can contact your local police by telephone or in-person to file an accident report. If they don't show up at the collision scene, they will gather that information themselves and prepare a police report afterward.
Reliable Truck Accident Lawyers in Sacramento
Truck accidents frequently result in severe injuries. Pursuing such a case on your own may be challenging, so hiring a truck accident lawyer is recommended.
Truck drivers are expected to follow all laws and rules as professionals. They frequently cause collisions with their large vehicles. Following a tragic accident, the injured party may file a lawsuit against the negligent party.
Do not hesitate to contact our Sacramento truck accident lawyers at Arash Law, led by Arash Khorsandi, Esq., if you were injured in a truck accident. Let our legal team fight for your right to equal compensation.
Given their extensive training and experience, our legal team can assist you in obtaining the best possible outcome for your claim.
To learn more about your options, call us at (888) 488-1391 or through our website's "Do I Have A Case?" form.