Two unidentified victims attained severe injuries after a major collision at Bear Valley and Deep Creek Road on April 1st.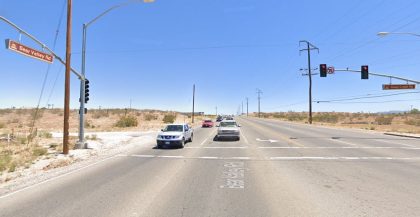 According to the initial reports from the local authorities, the accident occurred at around 10 p.m. A 2019 gray Hyundai Accent collided with a 2005 gray Dodge Dakota at the intersection of Bear Valley Road and Deep Creek Road. 
The Hyundai was reportedly traveling westbound on Bear Valley Road. The driver made a left turn onto southbound Deep Creek Road. The Hyundai eventually crashed into a Dodge Dakota. 
One of the victims was initially brought to the St. Mary's hospital via ambulance while the second victim was taken to Desert Valley Hospital.  Both victims were eventually transferred. The impact was so severe that both drivers had to be airlifted to nearby trauma centers. 
The cause of the crash and the driver liable for it is still unknown. 
Car Crash Investigation is Underway
Local authorities are currently investigating the case.  Although head-on collisions only represent 2 percent of accidents, they account for 10 percent of fatalities on U.S. roadways. According to the statistics from the National Highway Traffic Safety Administration, there were 3,304 fatal car accidents in California in 2017. 
Drunk driving, distracted driving, poor road design, and confusion on the part of the driver are just a few common causes of head-on accidents. Driver error is the most common cause of head-on accidents. 
When facing cases like this, it's vital to have an experienced personal injury attorney specializing in car accident cases to conduct an independent investigation. Personal injury attorneys have the resources they need to collect all the proper evidence that can help in proving the negligence of the driver. They can re-interview important witnesses, analyze any surveillance video from the scene of the crash, and collect important phone and texting records of the liable party. 
Personal Injury Attorney for Victims of Car Crashes in San Bernardino 
Dealing with injuries after a car accident can be overwhelming and stressful as it can affect all aspects of like, such as family, work, and finances. While waiting for the results of the official investigation, the victim is entitled to pursue a personal injury claim with the help of his attorney. 
Attorneys can serve as a helpful legal guide for the victim during this difficult time. They will vigorously fight for your rights and best interests while ensuring that the guilty party will be held accountable for their negligence. 
If you believe you have grounds to file a claim, retain a local car accident attorney in California near you who can help you navigate car accident laws. Arash Law has decades of experience throughout California and has secured million-dollar settlements and verdicts for our clients. Our car accident team can investigate your crash, identify the potential defendant(s), and file your claim with the civil court system as quickly as possible. Don't delay – you're just a phone call away from learning your legal options.