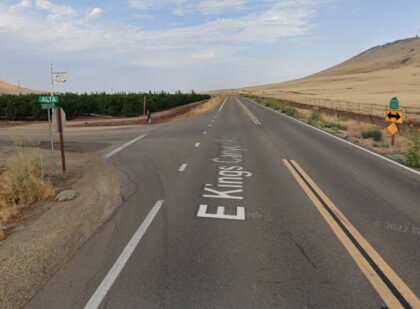 A 33-year-old father, Joe A., and his 13-year-old daughter, Analiea A., were killed, and another was injured after a reckless driving accident in East Sanger on Tuesday morning, April 25, 2023.
The California Highway Patrol received a report regarding a fatal collision involving a 2006 Jeep Liberty and a 2015 Chevrolet Silverado around 11:20 a.m. on Highway 180 near Alta Avenue.
Alvarez, the Jeep driver, was said to be traveling at high speed when he crossed into oncoming traffic and hit the Chevy truck towing a utility trailer. When the collision occurred, he was not wearing his seatbelt and was thrown from the vehicle. He was pronounced dead at the scene.
The vehicle's passenger, his daughter, was transported to Community Regional Medical Center in critical condition. She later succumbed to her injuries. The girl was reportedly restrained.
The pickup truck driver, a 44-year-old male from Woodlake, sustained moderate injuries. He was said to be carrying children aged 16 and 4 in his vehicle. Thankfully, they appear to have not sustained any injuries. They were also taken to CRMC and are currently under observation.

Reliable Reckless Accident Victim Attorneys in Sanger, Fresno County
Families of victims killed or seriously injured in reckless accidents can file lawsuits against negligent drivers. You should contact an attorney immediately if you or a loved one suffered injuries in a car accident in California that wasn't your fault.
During the free consultation, an experienced attorney will examine your case, advise you on how to proceed, and explain the factors affecting the final settlement amount.
Our renowned Fresno County reckless driving accident attorneys at Arash Law, led by Arash Khorsandi, Esq., have years of experience and extensive knowledge in advocating for accident victims, with granted compensation of over $500 million in total.
Call us at (888) 488-1391 or complete our "Do I Have a Case?" form to set up a free consultation with our attorneys.
What Should You Do After a Car Accident?
While you cannot predict car accidents, you can prepare for them. This checklist will guide you on what to do after an accident so you can protect your rights. You can follow these steps:
Stay at the scene and check everyone's condition. Ensure you're safe first before checking with anyone.
Wait for the authorities in a safe location. If possible, move any disabled vehicles to the side of the road. Turn on your vehicle's hazard lights as a safety precaution.
Call 911 to report your accident. Police officers will collect evidence, take statements, and create a report regarding the incident.
Exchange information with all parties involved. It would be helpful to take pictures of your injuries, the road conditions, the weather, and the vehicle that hit you.
Stay calm, and do not admit fault, not even to the police.
Tell the authorities the truth about what happened.
Seek medical attention. Visit your primary care physician or specialist immediately. Early medical care can mitigate the severity of any injuries sustained.
Please report it to your insurance company. Insurers in California have a time limit for reporting an accident.
Talk to insurance adjusters. While you speak with a claims adjuster, you should only share what is necessary. Do not give an insurance company a recorded statement or accept a settlement offer before consulting with an attorney.
Create a file containing all documents related to the incident, including the police report, medical bills, information about the other driver, and your treatment plan.
Seek immediate legal counsel from a reputable reckless accident attorney in California.
Fatal Reckless Accident Statistics
Each year, reckless driving leads to thousands of collisions and hundreds of fatalities in the United States. Reckless driving is defined by the National Highway Traffic Safety Administration (NHTSA) as driving without regard for the safety of others.
The precise number of people killed or injured each year due to careless driving is probably impossible to determine. According to AAA, reckless driving accounted for 56% of all traffic accidents between 2003 and 2007.
US statistics report that speeding is the leading cause of fatal car accidents. Drunk driving is a significant problem on American roads.