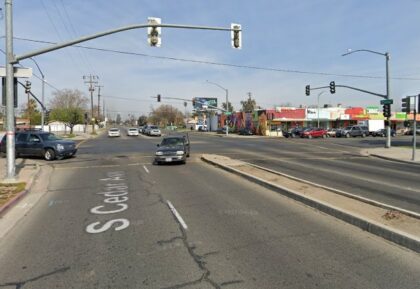 A pedestrian sustained injuries after a hit-and-run accident in Fresno City on Thursday night, April 27, 2023.
According to the Fresno Police Department, the crash happened around 9:30 p.m. in the area of Cedar and Tulare Avenues.
The police claim the suspect hit a pedestrian, causing a broken leg. There is no official statement on how the crash happened.
After the incident, the suspect fled the scene, but witnesses followed him.
The suspect was later arrested nearby at Cedar and Balch on a charge of felony hit-and-run.
Authorities are still conducting their investigation.

Expert Hit-and-Run Accident Victim Lawyers in Fresno, CA
In California, victims of hit-and-run accidents may file insurance claims or lawsuits to recover damages. If you or a loved one have experienced severe injuries or death due to someone else's negligence, do not hesitate to contact the top hit-and-run attorneys in California.
During this free meeting, one of our attorneys will assess your case, outline the following stages, and discuss any issues affecting the settlement offer.
Our trusted Fresno hit-and-run accident lawyers for victims at Arash Law, led by Arash Khorsandi Esq., have experience and accolades advocating for accident victims, with a total of $500 million awarded compensation.
Call (888) 488-1391 now or click the "Do I Have a Case?" on our website to set up a free consultation with one of our attorneys.
What To Do After A Hit-and-Run Accident
You may find it difficult to think clearly after being struck by a car, especially if you were injured in a hit-and-run. However, what you say and do at the accident scene can significantly impact your lawsuit's success against the at-fault party. By adhering to these rules, you can preserve your personal injury claim's value:
Contact the police following a collision, and ask for an accident report.
Record everything, including your injuries, the weather, the road conditions, and the car that hit you.
Gather all possible witnesses' names and contact details.
Immediately seek medical attention from a doctor or other healthcare professional, and list your injured body parts.
Keep a notebook to record your injuries and the healing process. Describe how you're feeling, the treatments you're receiving, and the cost.
Before speaking with a lawyer, avoid negotiating with an insurance company or accepting a settlement offer.
Refrain from sharing anything concerning accidents or how they happened on social media.
Consult an experienced California hit-and-run accident lawyer immediately.
Hit-and-Run Accident Statistics
Causing an accident, not helping the injured, or calling the police is against the law in the United States. It's possible to break the law if you cause an accident and then try to leave the scene.
In 2015, there were 737,100 hit-and-run accidents in the United States, according to the National Highway Traffic Safety Administration.
Based on this number, a hit-and-run occurs every 43 seconds in the United States. In 2016, there were 2,049 people killed in hit-and-run accidents, setting a new record high.
There were 2,948 hit-and-run accidents in California between 2010 and 2019, resulting in 3,056 fatalities. Compared to other states, California consistently ranks towards the top in terms of the number of this type of accident.