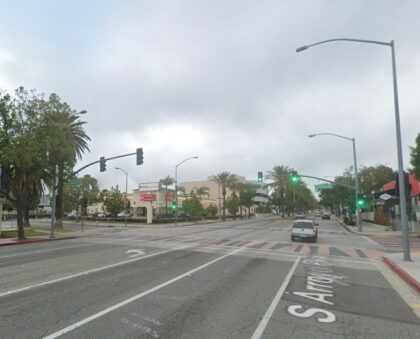 One person was injured after a two-vehicle hit-and-run collision in Pasadena on Sunday evening, April 30, 2023.
According to the Pasadena Police Department, officers responded to a crash at Arroyo Parkway and Fillmore Street around 7:45 p.m.
Two suspects fled as authorities arrived. A Pasadena helicopter and other officers contained the situation. One suspect was caught, but no one found the second suspect.
The vehicle the suspects were driving was discovered to be a stolen car taken in a carjacking in Los Angeles. The Los Angeles Police Department responded and detained one of the suspects, whom Pasadena police identified as 18-year-old Luis P. of Carson.
Authorities stated that the hit-and-run victim was taken to a hospital with minor injuries.
The investigation is ongoing. Anyone with information regarding the second suspect is urged to contact the police.

Hit-and-Run Accident Victim Lawyers in Pasadena, Los Angeles County
In California, victims of hit-and-run accidents can seek criminal charges against the at-fault driver and civil compensation for their damages by filing a personal injury or wrongful death complaint against the at-fault driver's vehicle insurance. Please call one of our highly renowned attorneys if you or a loved one has been seriously injured or murdered due to someone else's negligence.
Our trusted Los Angeles hit-and-run accident lawyers at Arash Law, led by Arash Khorsandi Esq., have extensive experience and accolades advocating for accident victims. Our clients have been awarded compensation totaling $400 million.
Call (888) 488-1391 now or click "Do I Have a Case?" to set up a free consultation with one of our attorneys.
What To Do After A Hit-And-Run Accident
A hit-and-run accident can upset anyone because it results in physical injuries, emotional distress, and financial difficulties. Knowing what steps to take in the immediate aftermath of a hit-and-run accident can be challenging. This handbook offers helpful advice on the appropriate actions to take if you are involved in a hit-and-run accident in California.
Examine yourself and others for injuries and, if necessary, seek medical attention.
Collect as much information about the other vehicle as possible, including the license plate number, make and model, and distinguishing features.
Make contact with the police and file a report. Please provide any information you have about the other vehicle and the accident.
Photograph the damage to your vehicle and any injuries you sustain.
Report the accident to your car insurance company.
Consider speaking with one of our reputable Los Angeles hit-and-run accident attorneys to discuss your legal options for recovering compensation for your injuries and damages.
Hit-And-Run Accident Statistics
According to data from the California Highway Patrol (CHP), there were 20,160 hit-and-run accidents in California in 2019, resulting in 11,663 injuries and 155 fatalities. This represents a slight increase from the previous year.
Hit-and-run accidents account for approximately 20% of all collisions in the state and are most common in cities. Los Angeles County has the highest number of hit-and-run accidents in California.
Those who flee the scene of an accident, particularly those involving injuries or deaths, may face severe penalties in California, including fines, imprisonment, and loss of driving privileges.