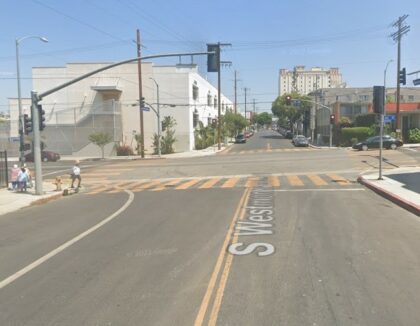 A female pedestrian was killed after being struck by a vehicle that fled the scene in Los Angeles early Tuesday morning, May 02, 2023.
The Los Angeles Police Department reported that the fatal crash occurred at about 5:15 a.m. near W 1st Street and S Westmoreland Avenue in Koreatown.
According to the authorities, a 2005 silver Nissan Altima hit the woman before leaving the scene. The yet-to-be-identified victim was brought to the hospital, where she passed away.
Anyone who can provide information on the suspect driver can receive a reward of up to $50,000.
No other information is immediately available as the investigation and search continue.

Award-Winning Hit-and-Run Accident Victim Lawyers in Los Angeles
Damages for victims of hit-and-run accidents in California can be sought through insurance claims or litigation. Contact the best California hit-and-run attorneys immediately if you or a loved one has been gravely hurt or murdered as a result of someone else's carelessness.
One of our attorneys will review your case at no charge, outlining the next steps and discussing any factors that may affect the settlement offer.
Our trusted Los Angeles hit-and-run accident lawyers for victims at Arash Law, led by Arash Khorsandi Esq., have experience and accolades advocating for accident victims, with awarded compensation totaling $400 million.
Call (888) 488-1391 now or click the "Do I Have a Case?" on our website to set up a free consultation with one of our attorneys.
What to Do After a Hit-and-Run Accident
If the other driver doesn't stop, you can still seek compensation for your damages. You can bolster your case for damages in a lawsuit by providing information that helps law police locate and apprehend the driver. Here are some of the steps involved:
Gathering as much information as possible at the scene of an accident is crucial. You may or may not be able to recognize the car's brand, model, and color from the license plate.
Immediately contact law enforcement and report this. Within a few days, you can get a copy of the accident report from the California DMV or the police station where the report was filed. You should include it with your claim.
Gather all the data you can about possible witnesses. Get their names and phone numbers as soon as possible.
Get medical attention immediately. If you are injured, you should get medical help right away, even if you feel fine at all.
Private insurance companies need to be notified immediately. When dealing with other insurance providers, do not accept any settlement without consulting a hit-and-run accident attorney.
Hit-and-Run Accident Statistics
In the United States, it is illegal to cause an accident and leave the scene without helping the victims or reporting it to the authorities. It is a crime to cause an accident and then attempt to flee the scene.
According to the National Highway Traffic Safety Administration, there were 737,100 hit-and-run accidents in the United States in 2015.
This statistic suggests that every 43 seconds, there was a hit-and-run in the United States. The number of people killed in hit-and-run accidents in 2016 was 2,049.
There were 2,948 hit-and-run accidents in California between 2010 and 2019, resulting in 3,056 fatalities. California's rate of this particular sort of accident is among the highest compared to other states.