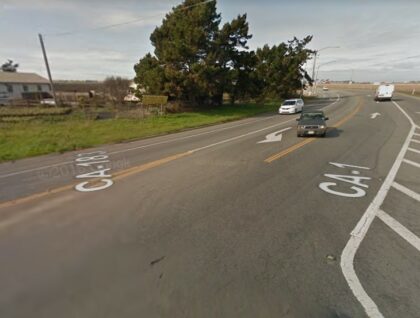 A 35-year-old female driver was killed after a two-vehicle collision in Castroville, Monterey County, late Tuesday afternoon, May 02, 2023.
According to the California Highway Patrol, the fatal collision happened around 5:28 p.m. between Highway 1 and State Route 83, south of Highway 183.
The 35-year-old female was driving a Cadillac going southbound when it turned northbound and collided with a Ram driven by a 50-year-old man.
The victim sustained severe internal injuries and was transported to a nearby hospital. She later succumbed to her injuries.
The authorities are currently investigating the cause of the crash.

Renowned Monterey County Car Accident Attorneys
Don't wait to get in touch if you or a loved one have been hurt in a car crash. Please contact us as soon as possible if you would like to consult with one of our attorneys about submitting a claim.
Your attorney will discuss the specifics of your case, the following steps, and anything that could influence the settlement offer with you during your initial consultation.
Our renowned Monterey County car accident attorneys at Arash Law, led by Arash Khorsandi Esq., have the recognition and vast experience to advocate for accident victims, with awarded compensation totaling $400 million as of yet.
Contact (888) 488-1391 or complete the "Do I Have a Case?" form on our website to schedule a free consultation with one of our attorneys.
What to Do After a Car Accident
While we can't predict when or where a car accident will occur, we can prepare ourselves. Keep a checklist in your car's glove compartment to help you remain calm after an accident. It can guide you on what to do, what to avoid, and how to protect your rights. You can follow these guidelines:
Stay calm and avoid admitting fault. Remain at the scene to ensure safety. You should check yourself for injuries before helping others.
Get to a safe location and wait for the authorities. Pull over any vehicles that cannot move to the side of the road. To prevent further collisions, activate your hazard lights.
Call 911 to report your collision. Unless the accident was minor, there were no injuries, and there was no property damage, call the police. The police can investigate the situation by questioning potential witnesses and collecting evidence.
Exchange information with all parties involved. Document everything, from your injuries to the weather, road conditions, and the vehicle that hit you.
Do not admit fault under any circumstances, even to the police. Give the police officer your honest account of events.
Seek medical attention. See a specialist or your primary care physician as soon as possible. Receiving immediate medical care can lessen the severity of injuries.
Report it to your insurance company. Insurance companies in California have different deadlines for reporting accidents.
Contact insurance adjusters. You can talk to a claims adjuster, but only share the necessary information with them. You should consult an attorney before accepting a settlement offer or providing a recorded statement to an insurance company.
Create a file. Gather and file all paperwork related to the incident, such as the police report, medical bills, details about the other driver, and plans for treating any injuries, in a case file.
Seek immediate legal counsel from a renowned California car accident attorney.
Fatal Two-Vehicle Accident Statistics
In the US, auto accidents continue to be the leading cause of accidental deaths and injuries. Each year, automobiles cause two million fatalities and ten million injuries.
According to the National Safety Council, traffic fatalities nationwide increased by 8.3% in 2020.
There were 39,107 people killed in car accidents in the United States in 2019. Unfortunately, that figure rose to 42,338 by 2020.
A total of 3,847 people lost their lives in traffic accidents in California in 2020. One-car accidents accounted for 2,260 deaths, or 59% of the total toll. Collisions involving multiple vehicles were responsible for 1,587 (or 41%) of all fatalities.
Two vehicles were involved in the majority of collisions (72% of all collisions, 71% of collisions that caused injuries, and 77% of all injuries). In 2020, 8,000 or so people were killed or injured in angled collisions.