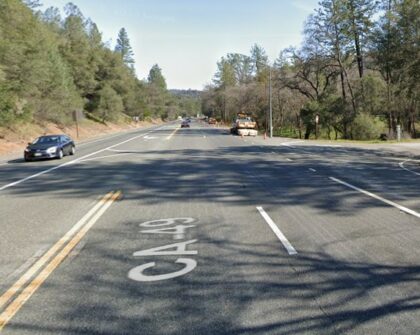 An adult and a child were killed, while another child was critically injured after a single-vehicle crash in Western Nevada County early Tuesday afternoon, May 02, 2023.
The California Highway Patrol reported that the fatal crash occurred around 12:10 p.m. on Highway 49 and Cameo Drive, north of 49's intersection with Wolf/Combie Road, near Higgins Corner.
The vehicle, a Chevrolet Silverado traveling northbound, reportedly left the highway's east side for unknown reasons before going down a hillside, crashing into trees, and overturning. First responders located the vehicle on fire roughly 40 feet off the road.
The truck had three occupants. One adult and one child were declared dead at the scene, while a second child, thought to be about a year old, was airlifted to UC Davis Medical Center in critical condition.
Authorities said any other vehicles were not involved in the crash. Speed was also not considered. They are still working to determine whether the victims are related to one another.
It remains under investigation whether safety equipment was used and if alcohol or drugs played a role.
The victims' identities have not been made public yet.

Experienced Nevada County Car Accident Lawyers
We offer free consultations to anyone wounded or whose loved one was killed in a car accident who wants to discuss their legal options with an attorney. If you've been in an automobile accident in California, you should consult with one of the state's best car accident lawyers as soon as possible.
An evaluation of your case, an explanation of the next steps, and a review of any papers or evidence that may affect the settlement offer can all be done during a free consultation with one of our highly renowned California automobile accident attorneys.
Arash Law, led by Arash Khorsandi Esq., has a team of reputable Nevada County car accident lawyers that have successfully fought for victims' rights and recovered over $400 million in compensation thus far.
Contact (888) 488-1391 or click the "Do I Have a Case?" on our website to schedule a free consultation with one of our lawyers.
What to Do After a Car Accident
There's no telling when or where a car crash will happen. As a result, we need to be ready for anything at any time. Those who have been in car accidents know how crucial it is to be ready for chaos. With this newfound awareness, you can protect yourself as needed.
Please contact us at your convenience if you have any questions. Please call us at (888) 488-1391 if we may be of assistance. Here are some things you or the victim's loved ones can do following a car accident:
At the scene of an accident, collecting as much information as possible is essential. Exchange information with the other parties involved, if applicable.
Immediately report this to the authorities and do not admit fault. A copy of the accident report can be obtained from the California Department of Motor Vehicles (DMV) or the police station where the report was filed within a few days. You must submit it together with your claim.
Collect as much information as you can on potential witnesses. Quickly get their names and contact information.
Find a doctor right now. Get medical attention if you've been hurt, even if you don't think you need it.
The insurance provider must be informed. Do not settle with other insurance companies until you have spoken with an attorney specializing in car accidents.
Fatal Single-Vehicle Accident Statistics
Thousands of Americans are killed, and countless more are injured yearly in car accidents. And every year, two million lives are lost, and ten times as many are injured due to motor accidents worldwide.
According to the National Safety Council, the number of people killed in traffic accidents rose 8.3 percent in 2020. Three years of decline led up to that increase. The number of people killed in car accidents in the United States was 39,107 in 2019. The figure, however, jumped to 42,338 by the year 2020.
In addition, according to the Insurance Institute for Highway Safety (IIHS), the U.S. Department of Transportation's Fatality Analysis Reporting System (FARS) reported that 3,847 persons perished in California vehicle collisions in 2020. In accidents involving two or more cars, 1,587 individuals were killed, accounting for 41% of the total. Single-vehicle accidents accounted for around 2,260 deaths (59%).
At least two vehicles were involved in 77% of all injuries, 71% of all collisions leading to injuries, and 72% of all accidents. In the year 2020, there were about 8,000 fatalities and injuries attributed to angle collisions.