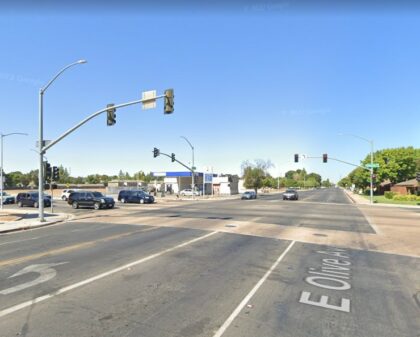 Five people were injured after a pursuit led to a two-vehicle crash along Peach Avenue, Fresno, late Thursday evening, May 04, 2023.
According to the Fresno Police Department, the crash occurred around 11:30 p.m. between Peach Avenue and Olive Avenue.
A white vehicle, suspected of being involved in a nearby shooting incident, was pursued by police when it ran the red light and collided with another vehicle.
The white vehicle's four occupants and the other vehicle's driver sustained moderate injuries, and all were transported to a nearby hospital.
As of now, the authorities have not released any further information.

Reliable Reckless Accident Victim Lawyers in Fresno
The victim's family may be able to file a lawsuit against the careless driver if the victim is killed or seriously injured. In California, if you or a loved one have been hurt in a car accident that wasn't your fault, you should definitely talk to a personal injury lawyer.
During this free consultation, one of our experienced attorneys will review your case, discuss the next steps, and discuss the factors that may influence the final settlement amount.
Our reliable Fresno reckless accident lawyers at Arash Law, led by Arash Khorsandi, Esq., have years of experience advocating for accident victims, with compensation totaling $400 million so far.
Contact (888) 488-1391 or complete the "Do I Have a Case?" form to schedule a free consultation with one of our lawyers.
What To Do After A Car Accident
Automobile collisions can't be foreseen but can be avoided. Maintaining composure after a car crash is easier with a checklist. It can guide you in protecting your rights and preventing you from violating them. After a collision, you are not alone. Do the following.
Stay on the scene and ensure everyone is safe. Keep calm and inspect yourself for injuries before checking on others.
Move disabled vehicles to the side of the road if possible. To avoid further collisions, keep your emergency lights on. Wait for the police in a secure area.
Report the accident to the police. The authorities will gather information, record it, and add it to an official record.
Exchange names, phone numbers, and insurance information with the other driver(s) involved in the crash. Take pictures of the cars, license plates, and other pertinent information.
Do not admit fault, even to the police. When speaking with a police officer, concentrate on the facts of what occurred.
Immediately take yourself to the hospital or see your primary care physician. Scans and tests can detect internal injuries that do not cause symptoms.
California insurers have reporting deadlines for accidents. Call as soon as possible and follow the agent's instructions to report your crash.
Only give the claims adjuster the necessary information. Avoid recording statements or accepting insurance settlement offers before speaking with an attorney.
Organize and keep all accident-related documents together. You should obtain a copy of the police report, information about the other driver, medical bills, injury treatment plans, and other pertinent documents.
Our free consultations allow you to discuss your car accident without risk or obligation. Call us at (888) 488-1391.
Reckless Accident Statistics
Every year, reckless driving causes thousands of collisions and hundreds of fatalities in the United States. The National Highway Traffic Safety Administration defines reckless driving as "willful disregard" for other road users' safety.
Calculating the exact number of people killed or injured each year due to careless driving is likely impossible. However, the AAA estimated that between 2003 and 2007, reckless driving caused 56% of all traffic accidents.
In the United States, speeding is the leading cause of fatal automobile collisions. There is no doubt that drunk driving is a major contributor to traffic chaos on American roads.