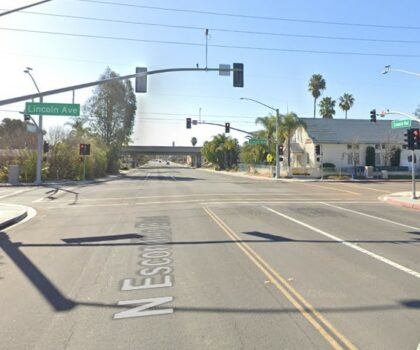 A 31-year-old pedestrian was severely injured after a possible DUI crash in Escondido on Friday evening, May 05, 2023.
According to the Escondido Police Department, the crash happened around 9:40 p.m. between North Escondido Boulevard and West Lincoln Avenue.
The pedestrian was found bleeding and suffering from severe injuries during Cinco de Mayo. The victim was transported to a local hospital, where his condition remains undisclosed.
The driver is a civilian employee of EPD who was off-duty at the time of the crash. The employee is currently suspected of DUI.
The EPD reported that the California Highway Patrol would head the investigation for transparency purposes.

Renowned Drunk Driving Accident Victim Lawyers in Escondido
Injuries from a DUI-related accident can give rise to a lot of emotions, including frustration, doubt, and fear. The driver who caused the collision is legally responsible for any injuries you sustain in the event of a collision. Injured parties may face severe financial difficulties due to medical expenses and lost wages.
California law protects those injured in DUI accidents regardless of how difficult it may be to prevent all drunk driving accidents.
Our renowned Escondido drunk driving accident lawyers at Arash Law, led by Arash Khorsandi, Esq., will effectively represent you in these court proceedings. Our firm has recovered more than $400 million for California clients.
To schedule a free consultation with one of our lawyers, call (888) 488-1391 or complete our "Do I Have a Case?" form.
What Should You Do After a DUI Accident?
Traumatic DUI accidents can cause physical injuries, emotional distress, and financial hardship. It's important to protect your rights, safety, and health after an accident like this. This checklist will give you tips on handling its aftermath:
It should be your top priority to get medical help. Also, check the condition of other people involved.
Inform the police about the collision. The authorities will investigate to confirm if the driver was under the influence of drugs or alcohol or not.
Get essential details such as the driver's name, contact details, license plate number, and insurance information.
Take pictures of the accident scene, including the damaged vehicles and the victims' injuries.
You must report the accident to your insurance provider and recount the necessary information regarding the accident.
Please speak with our DUI accident attorneys. They'll defend your rights and ensure you get the compensation you deserve.
DUI Accident Statistics
In the US, drunk driving accidents cause the deaths of 32 people every day, or one every 45 minutes, according to the National Highway Traffic Safety Administration (NHTSA). In 2020, drunk drivers caused 11,654 traffic deaths, an increase of 14% from the previous year.
The number of alcohol-related traffic fatalities rose by 5.8 percent between 2016 and 2017, a study by the California DUI Management Information System found. Drunk driving is extremely dangerous for everyone on the road. Drunk drivers also cause annual environmental damage of about two billion gallons of fuel.
In 2019, there were 10,142 drunk driving deaths in the US and 949 in California alone, resulting in a rate of 2.4 per 100,000 people in the state compared to the national rate of 3.1. In 2014, drunk driving accounted for 26.3% of all traffic fatalities in California and 28.1% in the United States.