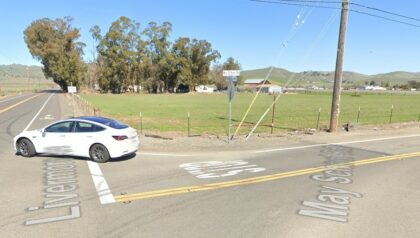 One person was killed, and two others suffered possible injuries after a reckless car crash in Livermore on Saturday night, May 6, 2023.
According to the California Highway Patrol, three cars crashed during a drag race on N. Livermore Avenue between the intersections of May School Road and Manning Road around 8:46 p.m.
Further investigation revealed that a 2013 Hyundai Elantra and a 1994 Chevrolet Camaro were stopped at a red light in the left-turn lane. Both were ready to turn onto I-580 westbound.
After the light turned green and both cars made the turn, a 2006 Acura RL rushed through a red light. The Acura collided with both cars but continued through the intersection, hitting a traffic pole. The pole fell onto the Acura and struck the driver, resulting in a fatal injury.
Authorities stated that the Camaro and Elantra drivers refused to be taken to the hospital, and their injuries remain unknown.
The investigation is ongoing.

Reckless Accident Victim Lawyers in Alameda County
Seeking legal counsel may be necessary if you or someone close to you was killed or suffered severe injuries in a California car accident that wasn't your fault. Filing a lawsuit against the responsible driver might be a good idea.
To better understand the legal process and make an informed choice, consider speaking with an experienced attorney. During a free consultation, the lawyer can evaluate your case, counsel you on the next steps, and explain the factors influencing the compensation amount.
You can rely on our most reliable Alameda County reckless accident victim lawyers at Arash Law, under the direction of Arash Khorsandi, Esq., to effectively represent you in these court proceedings. Our firm has recovered more than $400 million for California clients.
If you want to speak with one of our lawyers, please call (888) 488-1391 or fill out the "Do I Have a Case?" form.
What Should You Do After A Reckless Car Accident?
Experiencing reckless accidents can cause emotional distress and confusion about the proper course of action. Knowing how to protect your health and legal rights following such an incident Following the proper steps can help you maintain your composure, gather relevant information, and seek compensation for your injuries.
Even if you feel fine, seek medical attention immediately.
Inform the police of the accident and obtain a report.
Communicate with the other driver(s) involved.
Take photos of the accident scene, damage, and injuries.
Inform your insurance company and provide all necessary information.
Consult a personal injury lawyer to help you navigate the legal system and receive fair compensation.
Fatal Reckless Accident Statistics
According to the National Highway Traffic Safety Administration (NHTSA), reckless driving is defined as a willful disregard for others' safety, contributing to many car accidents and fatalities in the United States.
Although it may be challenging to determine the exact number of injuries caused by reckless driving, AAA reported that it accounted for 56% of all traffic accidents from 2003 to 2007.
Speeding is the leading cause of fatal car accidents, and drunk driving is a significant risk on US roads.