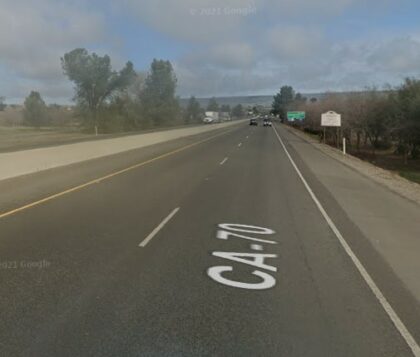 Two people were seriously injured following a two-vehicle crash in Oroville on Sunday morning, May 7, 2023.
According to the California Highway Patrol, the crash occurred on northbound Highway 70, and the report came in at around 5:05 p.m.
Cal Fire stated that one person was flown to the hospital, and another was transported by ambulance. Both have significant injuries.
The two vehicles were severely damaged in the collision. The route was blocked, but there were no road closures.
The authorities are currently investigating the crash.

Proficient Car Accident Lawyers in Butte County
People frequently have difficulty recovering from a severe vehicle accident. Long-term injuries might result in thousands of dollars in medical bills.
In general, insurance firms want to pay you as little as possible. When you accept a settlement offer from an insurance company, you may get unfair compensation.
Our experienced Butte County car accident attorneys can help with the negotiating process with the insurance adjuster. Additionally, our lawyers will prove the insured driver's negligence. You can trust our firm in the entire process.
Our attorneys at Arash Law, led by Arash Khorsandi, Esq., have focused on practicing personal injury law all throughout their careers. Our firm is regarded as one of California's best accident law firms.
Our consultation is free of charge.
Please complete our "Do I Have a Case?" form or call us at (888) 488-1391 to schedule your free consultation.
What Should You Do After A Car Accident?
Although it is challenging to predict car accidents, you can prepare for them. The following checklist will tell you what to do after an accident to safeguard your rights. Here's what you need to do:
Make sure you're safe before contacting anyone. Stay on the scene and watch everyone.
Wait for the authorities in a safe place. Move disabled vehicles to the side of the road if feasible. Turn on your emergency lights for precaution.
To report your accident, dial 911. Officers will collect evidence, interview witnesses, and compile a report.
Gather information from all parties involved. Take pictures of your injuries, the road conditions, the weather, and the vehicle that hit you.
Inform the authorities of what occurred.
Seek medical assistance. As soon as possible, consult your primary care physician or specialist. Early medical attention can reduce injuries.
Please contact your insurance provider. California insurers have a time limit for reporting an accident.
Contact insurance adjusters. You must only share relevant information with the claims adjuster during your session. Consult an attorney before making a recorded statement or accepting a settlement offer from an insurance company.
Maintain a file containing all pertinent accident documentation. The police report, medical expenses, information about other drivers, and your treatment plan are among the materials included.
Seek quick legal counsel from a respected California reckless driving accident lawyer.
Two-Vehicle Crash Statistics
According to the National Highway Traffic Safety Administration (NHTSA), traffic fatalities in the United States increased by 7.2% in 2020 compared to the previous year, resulting in the most significant number of deaths since 2007. Despite an overall decrease in crashes and injuries, fatal crashes climbed by 6.8%.
The death rate per 100 million vehicle kilometers traveled rose to 1.34, the highest level since 2007. Almost 45% of fatal crashes were caused by passenger car drivers who were speeding, drunk driving, or not wearing a seatbelt.
To combat traffic fatalities and serious injuries, the NHTSA advocates for implementing the National Roadway Safety Strategy.