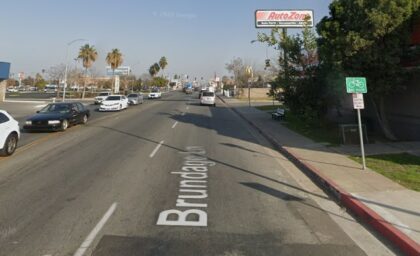 A male pedestrian was killed after a hit-and-run collision in downtown Bakersfield early Sunday morning, May 07, 2023.
According to the Bakersfield Police Department, their officers responded to the scene of the hit-and-run crash in the 400 block of Brundage Lane at 2:20 a.m.
The pedestrian reportedly crossed the roadway northbound and outside a crosswalk when the vehicle struck and killed him.
When the authorities arrived, they discovered the man lying on the road with severe injuries. The Bakersfield Fire and ambulance personnel performed emergency-life saving measures to save the pedestrian's life. He was later declared dead at the scene.
After the collision, the driver of the car immediately fled the scene.
The investigation is still ongoing. It is unclear if speed, alcohol, or drugs were factors in the collision.
The Kern County coroner's office will reveal the victim's identity later.

Competent Hit-and-Run Accident Victim Lawyers in Bakersfield
In California, hit-and-run accident victims may file an insurance claim or a lawsuit to seek compensation for their losses. Do not hesitate to contact our renowned California hit-and-run accident lawyers if you or a loved one has suffered severe injuries or has passed away due to someone else's negligence.
In our no-cost consultation, one of our lawyers will review your case, explain the following steps, and review the factors that might influence the settlement offer.
Our renowned Bakersfield hit-and-run accident lawyers for victims at Arash Law, led by Arash Khorsandi Esq., have experience and accolades advocating for accident victims, with awarded compensation totaling $400 million.
To set up a free consultation with one of our attorneys, immediately call (888) 488-1391 or complete our "Do I Have a Case?" form.
What Should You Do After a Hit-and-Run Accident?
If the driver involved in the accident does not pull over, you may seek compensation for your losses. Your claim for compensation in a lawsuit may be strengthened if you assist the authorities in locating and apprehending the driver. Follow these steps:
It's essential to gather as much information as you can at the scene of an accident. Document the brand, model, license plate, and vehicle color.
Immediately report the accident to the authorities. Obtain a copy of the accident report from the California DMV or the police department where the report was filed within a few days. You can use this as evidence to support your claim.
Collect as much information as you can about potential witnesses. As soon as you can, get their names and phone numbers.
Get medical help right away. Regardless if you feel fine, you should seek medical attention immediately.
Private insurance companies need to be notified immediately. Avoid accepting a settlement from an insurance company without consulting a hit-and-run accident lawyer first.
Contact (888) 488-1391 and discuss your accident with our experienced lawyers.
Fatal Hit-and-Run Accident Statistics
In the US, it is illegal to leave the scene of an accident without providing assistance or reporting it to the authorities. Leaving the scene of an accident and causing it are both crimes.
In the United States in 2015, there were 737,100 hit-and-run accidents, according to the National Highway Traffic Safety Administration.
According to this statistic, a hit-and-run occurs in the US every 43 seconds. Two thousand forty-nine people lost their lives in hit-and-run accidents in 2016.
Between 2010 and 2019, there were 2,948 hit-and-run crashes in California, which resulted in 3,056 fatalities. Compared to other states, California has one of the highest rates of this type of accident.