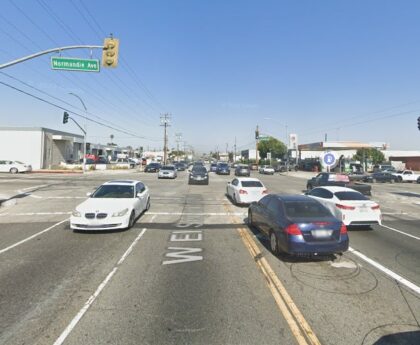 A man was killed after a pedestrian accident in Gardena on Sunday night, May 07, 2023.
According to the California Highway Patrol, the vehicle struck the man on El Segundo Boulevard, west of Normandie Avenue, at 10:23 p.m.
A witness claimed that the victim got trapped under the vehicle.
The pedestrian was transported to a hospital by ambulance. Unfortunately, he later succumbed to his injuries. His identity has been withheld as the next of kin notification is still pending.
No further details regarding the collision were immediately available. The authorities are still investigating the fatal crash.

Renowned Pedestrian Accident Attorneys in Gardena, Los Angeles County
Pedestrians in California are afforded legal protection from collisions comparable to the protection provided to drivers, passengers, and cyclists. A pedestrian injured or killed in an accident may have the right to file a claim against the driver at fault.
Our attorneys will assess your case, advise on the subsequent actions, and evaluate the factors affecting the settlement amount.
Our Los Angeles County pedestrian accident lawyers at Arash Law, led by Arash Khorsandi, Esq., possess significant expertise in advocating for pedestrians injured in accidents. Our clients have been awarded $400 million in compensation.
For a free consultation, please call (888) 488-1391 or complete our "Do I Have a Case?" form.
What to Do After a Pedestrian Accident
Maintaining composure following a vehicular collision can be challenging. It is essential to remember that your actions and words at the accident scene can substantially affect the outcome of your claim against the at-fault party. It is recommended to follow the steps below to preserve the value of a personal injury claim.
Report the collision to the appropriate authorities and request a copy of the accident report.
Photograph the involved vehicle, accident scene, injuries, and property damage.
Capture images of the license plate, insurance card, and driver's license.
It is advisable to gather potential eyewitnesses' names and contact details.
Immediate medical attention is advised. Inform your primary care physician or doctor of all areas affected.
Maintain documentation of your injuries, recovery, and associated medical costs.
Talking to a trustworthy lawyer before speaking with an insurance adjuster or accepting a settlement offer is recommended.
Avoid disclosing information about your accident or its preceding circumstances on social media.
For assistance, please contact us at (888) 488-1391.
Fatal Pedestrian Accident Statistics
Pedestrian accidents pose a greater risk of fatalities and severe injuries. Pedestrians lack protection in collisions.
Pedestrian accidents causing injuries and fatalities on American roads are increasing. Pedestrian accidents have been the primary cause of traffic fatalities in recent decades.
The GHSA has reported a 27% increase in pedestrian fatalities between 2007 and 2016, while other traffic-related deaths have decreased by 14%.
The statistics indicate that over 88 individuals die every minute. In 2017, hospitals treated 137,000 non-fatal pedestrian injuries. The United States recorded 5,977 pedestrians who died while walking in 2017.
A recent study indicates that pedestrians in California are more likely to experience injuries or die than pedestrians in other states. California documented 55,000 pedestrian injuries and 6,514 fatalities in the year 2020.