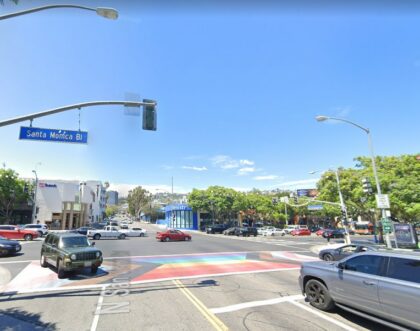 Three pedestrians were hospitalized after a hit-and-run accident in West Hollywood early Sunday morning, May 07, 2023.
According to West Hollywood Sheriff's Station, the Mini Cooper struck the pedestrians around 2:00 a.m. at Santa Monica and San Vicente Boulevards.
Dashcam footage of the accident showed that the vehicle reportedly turned right into the crosswalk as several people crossed the street.
The Mini Cooper's back window was smashed when a pedestrian ran and smacked it. After hitting three people in the crosswalk, the driver turned around and left with one still stuck on the hood.
Three patients were transported to the hospital for sustaining injuries. All of them are expected to recover.
Anton S., the source of the footage, claimed he delivered the dashcam footage to the Sheriff's Station across the street from the accident scene.
The Mini Cooper's driver fled the scene and was still at large as of Monday morning.

Reputable Hit-and-Run Accident Victim Lawyers in Los Angeles City
Victims of hit-and-run accidents in California can file an insurance claim or a lawsuit to seek compensation for injuries and losses. Please do not hesitate to contact our renowned California hit-and-run accident attorneys if you or a loved one has been killed or has suffered severe injuries due to someone else's negligence.
One of our attorneys will review your case during our no-cost consultation, go over the following steps, and assess the factors that could affect the settlement offer.
Our renowned Los Angeles City hit-and-run accident attorneys at Arash Law, led by Arash Khorsandi Esq., have experience and knowledge in representing accident victims and have recovered over $500 million in compensation for our clients.
Call (888) 488-1391 immediately to schedule a free consultation with one of our lawyers, or fill out our "Do I Have a Case?" form.
What to Do After a Hit-and-Run Accident
You may seek compensation for your losses if the driver who caused the collision does not pull over. Your claim for compensation in a lawsuit may be strengthened if you assist the authorities in locating and apprehending the driver. Take these actions:
Gathering all the information you can at the accident scene is critical. Photograph or document the vehicle's make, color, model, and license plate.
Inform the authorities of the accident right away. Within a few days, ensure to get a copy of the accident report from the California DMV or the police station where it was filed. It can serve as evidence for your claim.
Gather all the data you can about potential witnesses. Obtain their names and phone numbers as soon as you can.
Seek immediate medical attention. Whether or not you feel fine, you should get help right away.
Private insurance providers must be informed right away. A hit-and-run accident attorney should always be consulted before accepting an insurance company's settlement offer.
Call (888) 488-1391 to speak with one of our knowledgeable attorneys about your accident.
Fatal Hit-and-Run Accident Statistics
It is against the law to leave the scene of an accident in the US without helping out or reporting it to the police. Being at fault for the accident and fleeing the scene are both crimes.
According to the NHTSA or National Highway Traffic Safety Administration, there were 737,100 hit-and-run accidents in the United States in 2015.
According to this statistic, the United States experiences a hit-and-run every 43 seconds. In 2016, hit-and-run accidents claimed the lives of 2,049 people.
In California, there were 2,948 hit-and-run accidents between 2010 and 2019, which led to 3,056 fatalities. California ranks as one of the highest rates of this kind of accident compared to other states.