A man died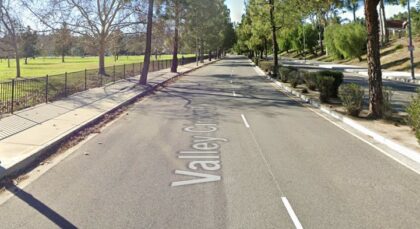 after being struck by a vehicle in Calabasas on Monday night, May 8, 2023.
The California Highway Patrol (CHP) said the incident occurred at 10:00 p.m. in the northbound Valley Circle Boulevard onramp.
According to the report, the collision occurred when the pedestrian ran across the onramp. Tragically, the man was found dead on the ramp at the scene.
As authorities worked to clear the scene, aerial footage captured significant traffic congestion on the northbound side of the freeway.
The investigation is ongoing.

Pedestrian Accident Lawyers in Calabasas, Los Angeles County
Pedestrians in California are granted the same legal protections as drivers, passengers, and cyclists on the road. Suppose you or someone you care about has been injured in a pedestrian accident caused by another party's negligence. In that case, you can pursue compensation by filing a lawsuit against the responsible driver.
Our skilled lawyers will carefully assess your case, provide guidance on the best course of action, and consider all relevant factors that could impact the settlement offer. We offer a free consultation to discuss your situation in detail.
You can rely on our most trusted Los Angeles County pedestrian accident lawyers at Arash Law, under the direction of Arash Khorsandi, Esq., to effectively represent you in these court proceedings. Our firm has recovered more than $400 million for California clients.
If you want to speak with one of our lawyers, please call (888) 488-1391 or fill out the "Do I Have a Case?" form.
What to Do After a Pedestrian Accident
Pedestrian accidents are common on busy roads, especially in highly populated areas. These accidents can be devastating, as pedestrians lack vehicle protection and are more vulnerable to serious injuries or fatalities. By following these guidelines, you can better handle the aftermath of a speeding-related accident and seek the necessary support to recover physically and legally.
Call the police and ensure an accident report is created.
Take photos of injuries, accident scenes, property damage, weather/road conditions, and the at-fault driver's information.
Gather names and contact information of eyewitnesses.
Seek immediate medical attention and inform healthcare professionals about all affected body parts.
Maintain a journal documenting injuries, recovery, treatment, and expenses.
Consult with a lawyer before speaking to insurance adjusters or accepting settlement offers.
Avoid posting about the accident on social media.
Contact a trustworthy pedestrian accident lawyer promptly for legal assistance.
Fatal Pedestrian Accident Statistics
Pedestrian accidents pose a greater risk of fatalities or serious injuries as pedestrians lack protection during collisions. Unfortunately, the number of pedestrian accidents resulting in injuries and deaths on American roads has increased. Pedestrian accidents have been a leading cause of traffic-related fatalities over the past few decades.
According to the Governors Highway Safety Association (GHSA), pedestrian fatalities increased by 27% from 2007 to 2016, while other traffic deaths decreased by 14%. Disturbingly, the statistics reflect the severity of the issue.
In 2017 alone, hospitals treated approximately 137,000 non-fatal pedestrian injuries, while 5,977 Americans died while walking. These numbers underscore the vulnerability pedestrians face on the streets. A recent study focused on California revealed a particularly concerning situation.
Pedestrians in California are more likely to suffer injuries or fatalities than pedestrians in other states. Shockingly, in 2020, pedestrian accidents in California resulted in 55,000 injuries and claimed the lives of 6,514 individuals. These figures highlight the urgent need for comprehensive measures to enhance pedestrian safety in the state.