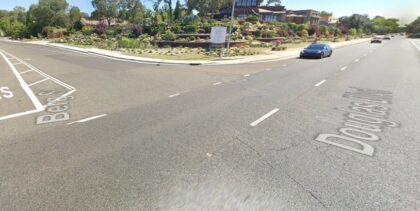 One person was killed, and another was injured after a high-speed motorcycle vs. car crash on Granite Bay in Placer County on Monday afternoon, May 8, 2023.
According to the California Highway Patrol, the collision occurred around 2:45 p.m. at Douglas Boulevard and Berg Street.
The female driver drove eastbound on Douglas Boulevard toward Berg Street and attempted to make a U-turn when the speeding motorcycle, traveling at over 85 mph, reportedly crashed into her.
The motorcyclist was ejected from his vehicle. Medical personnel arrived at the scene and performed CPR on the injured rider. However, he was later pronounced dead at the scene.
The SUV driver sustained minor injuries and was taken to the hospital.
The authorities closed Westbound Douglas Boulevard to clear up the crash. However, the road has since reopened.
No further details regarding the fatal collision were immediately available.

Dependable Reckless Driving Accident Attorneys in Granite Bay
Families of victims involved in reckless accidents may sue the at-fault drivers. You must speak with a lawyer immediately if you or a loved one have been injured in an accident in California that wasn't your fault.
Get an experienced lawyer to assess your case in a free consultation. With expert advice from our attorneys, you can make the best decisions regarding your situation and discuss factors that may affect the settlement amount.
Our experienced Granite Bay reckless driving accident attorneys at Arash Law, led by Arash Khorsandi, Esq., have the experience and skills to represent accident victims. Over $400 million in compensation has been granted to our clients.
You can talk about your accident with one of our attorneys for free. Please call (888) 488-1391, or fill out our "Do I Have a Case?" form.
What Should You Do After a Car Accident?
After a car accident, there are specific steps that you should take to ensure your safety and protect your legal rights. Preparing for auto accidents is possible even though they cannot be predicted. Following these steps:
Check your body for injuries. Also, it is essential to check on other people involved and stay at the scene.
Find a safe place to wait for the police to arrive. If you can, move disabled vehicles to the side of the road. It is recommended to turn on your hazard lights as a safety measure.
Call 911 to report the crash. The police will perform several tasks, including gathering information, recording statements, and compiling reports.
Obtain essential information on all parties involved. It is recommended to take pictures of the vehicle that struck you, any injuries you sustained, the weather at the time of the accident, and the condition of the road.
Even to the police, do not admit fault.
Be honest with the officers about what happened.
Seek medical attention immediately. Consult a specialist or your primary care physician and tell them of all affected areas.
Inform your insurance provider about the accident. Insurance companies in California have set a specific deadline to report accidents.
Talk with insurance adjusters. During your conversation, it is important only to provide the necessary information. Consult with a lawyer before giving a recorded statement or agreeing to a settlement offer from an insurance company.
Keep a file with all the pertinent information about the collision, including the police report, medical bills, information about the other driver, and your treatment plan.
Consult a competent California reckless accident lawyer right away.
Fatal Reckless Accident Statistics
In the U.S., reckless driving leads to thousands of collisions and hundreds of fatalities each year. According to the National Highway Traffic Safety Administration (NHTSA), reckless driving is driving without regard for other people's safety.
Counting the number of people killed or injured each year due to careless driving is probably impossible. Between 2003 and 2007, AAA reported that 56% of fatal traffic accidents were caused by reckless driving.
U.S. statistics indicate that speeding contributes significantly to fatal car accidents. The issue of drunk driving is also a serious one on American roads.