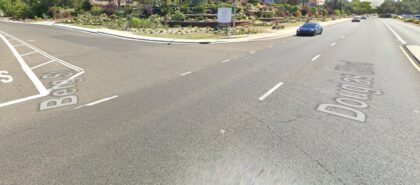 A 22-year-old motorcyclist from Roseville died, and an older woman suffered injuries in a high-speed crash in Sacramento County on Monday afternoon, May 8, 2023.
The California Highway Patrol said the incident occurred around 2:45 p.m. near Douglas Boulevard and Berg Street.
According to the report, the motorcyclist was traveling at an excessive speed of 85 mph when the collision occurred with an SUV that was making a U-turn.
The motorcyclist, wearing a helmet, was ejected and died at the scene. The 61-year-old SUV driver suffered moderate injuries and was taken to the hospital.
The investigation is ongoing.

Trusted Speeding-Related Accident Lawyers in Sacramento County
Speeding remains a prominent and pervasive issue across global highways and roads, leading to serious accidents. Such incidents frequently arise when drivers need to adapt their speed based on weather conditions, traffic congestion, road conditions, or visibility.
In the event of being involved in a speeding-related accident, securing legal representation becomes crucial. To ensures equitable treatment and appropriate compensation for any resulting damages or injuries. A legal professional can offer invaluable aid through expertise in the law, collecting evidence, negotiating settlements, and representing you in court.
You can rely on our most trusted Sacramento County speeding-related accident lawyers at Arash Law, under the direction of Arash Khorsandi, Esq., to effectively represent you in these court proceedings. Our firm has recovered more than $400 million for California clients.
If you want to speak with one of our lawyers, please call (888) 488-1391 or fill out the "Do I Have a Case?" form.
What to Do After Speeding-Related Accident
Being involved in a speeding-related accident can be a distressing and overwhelming experience. The consequences of such accidents can range from property damage to serious injuries or even loss of life. By following these guidelines, you can better handle the aftermath of a speeding-related accident and seek the necessary support to recover physically and legally.
Check for injuries: First and foremost, check yourself and others involved in the accident for any damages. If there are serious injuries, immediately call for medical assistance.
Move to a safe location: If it is safe, move your vehicle to the side of the road or a safe area to prevent further accidents or traffic disruptions.
Contact the authorities: Call the police or emergency services to report the accident. Please provide them with accurate information about the location, any injuries, and the nature of the incident. Cooperate with the authorities when they arrive and provide them with a factual account of what happened.
Exchange information: Exchange contact, insurance, and vehicle details with the other party involved in the accident. Also, gather contact information from any witnesses present at the scene.
Document the scene: Take photos or videos of the accident scene, including the positions of the vehicles, damages, skid marks, and any other relevant details. These visual records can be useful for insurance claims and legal purposes.
Seek medical attention: Even if you don't have apparent injuries, it is advisable to get a medical evaluation as some injuries may not be immediately noticeable. Prompt medical attention can also help establish a link between the accident and any injuries sustained.
Notify your insurance company: Report the accident to your insurance provider immediately. Please provide them with accurate and truthful information about the incident. Follow their instructions for filing a claim.
Consult with an attorney: Consider seeking legal advice from an experienced attorney specializing in personal injury or traffic accidents. They can guide you through the legal process, protect your rights, and help you seek compensation.
Fatal High-Speed Accident Statistics
Speeding has been a factor in approximately one-third of all motor vehicle fatalities for over two decades. In 2020 alone, speeding contributed to 29% of all traffic fatalities. It's important to recognize that speed affects your safety when exceeding the speed limit and driving too fast for road conditions, such as during inclement weather, road repairs, or poorly lit areas at night.
Speeding threatens the life of the speeding driver and all other individuals on the road, including law enforcement officers. It is a collective issue that requires everyone's involvement in finding a solution.
The devastating impact of speeding is evident as it claimed the lives of 11,258 people in 2020. While we understand the challenges of a busy modern life, we must acknowledge that speed limits exist to safeguard all road users. Familiarize yourself with the hazards of speeding and understand that faster does not equate to safer.