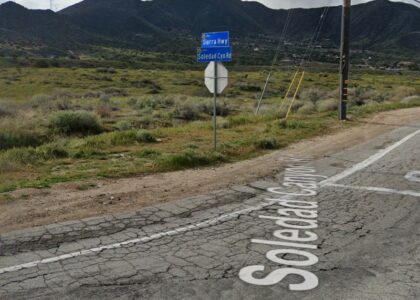 A 49-year-old pedestrian was killed after a hit-and-run crash in Canyon Country, Los Angeles County, early Tuesday morning, May 09, 2023.
According to the Santa Clarita Valley Sheriff's Station, the fatal crash occurred around 12:30 a.m. between Soledad Canyon Road and Sierra Highway.
The pedestrian was crossing the street when a white Acure struck the victim before fleeing the area. He suffered major injuries and was taken to a nearby hospital.
The suspect remains at large, and authorities continue their investigation into the fatal crash.

Renowned Hit-and-Run Accident Lawyers in Los Angeles County
You could claim compensation if you were hurt in a hit-and-run accident in California. You may seek compensation through an insurance claim or go to court. If you or a loved one have been seriously hurt or killed because of someone else's carelessness, you should immediately contact an experienced hit-and-run lawyer in California.
During a free initial consultation, our skilled lawyers will assess your case, provide an overview of the following steps, and examine any factors that may impact the settlement offer.
You can rely on our renowned Los Angeles hit-and-run accident lawyers at Arash Law, under the direction of Arash Khorsandi, Esq., to effectively represent you in these court proceedings. Our firm has recovered more than $400 million for California clients.
If you want to speak with one of our lawyers, please call (888) 488-1391 or fill out the "Do I Have a Case?" form.
What to Do After a Hit-and-Run Accident
Even though the other driver in the accident ran away from the scene, there are still ways to get money from them. Your actions will not only help the police find and catch the driver but also help your case if you decide to sue for damages. This section on what to do following a hit-and-run accident encompasses the following steps:
Gather accident scene data: Collect as much information as possible from the accident scene, including the license plate number, make, model, and color of the vehicle involved.
Report to the police: Immediately report the details to the police and obtain a copy of the accident report from the police station or the California DMV.
Obtain witness information: Assemble potential witnesses' contact information (names and numbers) and gather this information quickly.
Seek medical assistance: Do not delay seeking medical attention, even if you feel fine initially. It is important to see a doctor if you have sustained any injuries promptly.
Notify your insurance company: Notify your private insurance company promptly about the hit-and-run accident.
Please consult with a lawyer: Before accepting any settlement offers from other insurance providers, it is advisable to consult with a hit-and-run accident lawyer.
Fatal Hit-and-Run Accident Statistics
In the US, you can be charged with a crime if you cause an accident and don't stop to help the victims or tell the police. It is against the law to get away from the scene of an accident in this way.
According to the National Highway Traffic Safety Administration, there were 737,100 reported hit-and-run accidents in the United States in 2015. This data indicates that a hit-and-run occurs approximately every 43 seconds. Shockingly, hit-and-run accidents reached a record high in 2016, claiming the lives of 2,049 individuals.
In the state of California, between 2010 and 2019, there were 2,948 hit-and-run accidents, resulting in 3,056 fatalities. California experiences many hit-and-run accidents, surpassing many other states in this regard.