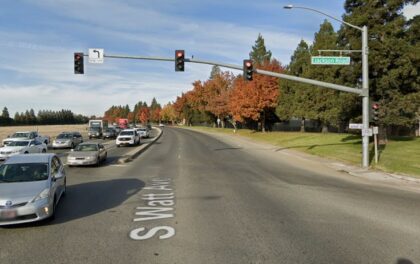 One driver was hospitalized after a two-vehicle collision south of Rosemont in Sacramento County early Tuesday morning, May 09, 2023.
California Highway Patrol reported that the crash occurred near S. Watt Avenue and Jackson Road shortly after 5:30 a.m.
The SUV reportedly struck the box truck while attempting to pass the larger vehicle.
The collision caused the SUV to sustain significant damage. The driver of the SUV has been transported to the hospital. Information regarding his current condition was not immediately available.
Officers stayed at the scene and continued to interview the witnesses. The investigation into the crash is still ongoing.

Leading Truck Accident Attorneys in Sacramento County
If you've been injured in a truck accident in California, you can file a personal injury lawsuit to seek compensation and hold the negligent party accountable. Protect your safety and rights.
Contact our firm and let one of our skilled truck accident lawyers evaluate your case. Our attorneys will review the following steps during a free consultation and assess factors affecting the settlement amount.
Our team of highly experienced Sacramento County truck accident lawyers at Arash Law, led by Arash Khorsandi Esq., have the skills and accolades to represent accident victims. Our firm has won $400 million in compensation for clients in California.
Call (888) 488-1391 to schedule a free consultation with one of our reliable attorneys. Alternatively, you can complete our "Do I Have a Case?" form and get started.
What Should You Do After a Truck Accident?
Truck accidents can be hazardous or even fatal. It is essential to prioritize protecting your rights, safety, and health. Follow these steps after a truck collision to ensure safety and proper handling of the situation:
In case of an accident, it is recommended to dial 911 immediately to report the accident.
It is recommended to wait for the authorities in a secure location. If possible, move disabled vehicles to the side of the road.
When interacting with a legal or insurance authority, refrain from making assumptions. Instead, provide only factual information.
Seek medical attention promptly. When it comes to internal injuries, running tests and scans can help identify them, even if there are no visible symptoms.
Remember that some victims may experience feelings of remorse, which could lead to their insurance company denying their claim.
Obtain a copy of the final report. Make a formal request to the local authorities.
Call us at (888) 488-1391. We will respond to your inquiry as soon as we receive your message.
Our attorneys will be available to answer any questions or concerns regarding your case's outcome during our free consultation.
Truck Accident Statistics
Truck drivers and passengers are more likely to be protected in accidents than those in small vehicles. Statistics show that occupants in smaller cars have a greater chance of suffering severe injuries or even dying in collisions. It can be dangerous when a big rig or truck is involved in an accident.
As reported by the National Highway Traffic Safety Administration (NHTSA), 4,965 people died in truck-related accidents in the US in 2020. The number of fatalities in 2019 was 5,032. 2020 saw a decrease of 5% in the total number. Trucks are to blame for 71% of fatal car accidents in the US.
In 2020, large trucks were involved in 8.9% of fatal collisions in the US. In 2015, truck-car collisions killed at least 90 people in California. Texas and Florida also recorded at least 50 truck-related fatalities in a single year.