Two people were injured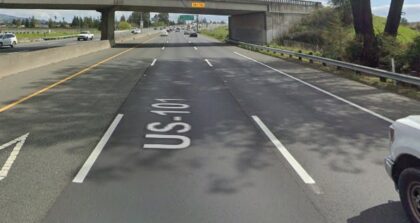 after a reckless high-speed car crash in Cotati on Tuesday morning, May 9, 2023.
Sonoma County Sheriff's Office said the incident occurred at North Bay and ended in Cotati.
The report said the suspect, Ernesto E., 37, led police on a pursuit after driving a car that matched the description of a carjacked vehicle. It began when a Windsor Police Department officer spotted the car on Highway 101.
During the chase, the suspect reached speeds of up to 115 mph and attempted to ram and hit officers with his car.
Eventually, CHP officers used spike strips to slow him down, causing him to lose control and hit a parked car with two people inside.
Esquivel was arrested and hospitalized, while the occupants of the parked car had minor injuries.

Reckless Driving Accident Lawyers in Cotati, Sonoma County
The victims' families can legally file a civil lawsuit if a driver's carelessness leads to an accident. If you or your loved ones have been injured in an accident caused by negligence in California, it's advisable to seek legal consultation immediately.
Our experienced lawyers will assess your case, recommend the most suitable course of action and outline the variables that could influence the final settlement amount.
You can rely on our most trusted Sonoma County reckless accident lawyers at Arash Law, under the direction of Arash Khorsandi, Esq., to effectively represent you in these court proceedings. Our firm has recovered more than $400 million for California clients.
If you want to speak with one of our lawyers, please call (888) 488-1391 or fill out the "Do I Have a Case?" form.
What to Do After Reckless Accident
Experiencing a reckless accident can be alarming, and it's crucial to be aware of the actions to take afterward. Knowing the right steps can safeguard your legal rights, guarantee you receive appropriate medical attention, and optimize any entitled compensation. This guide will specify the critical steps to take after a reckless accident to assist you in handling the aftermath and commence recuperating physically, mentally, and financially.
Seek medical attention immediately for yourself and any injured parties.
Contact the police and report the accident and obtain a copy of the police report.
Gather information about the accident, including witnesses' names and contact information, and take pictures of the scene if possible.
Notify your insurance company about the accident.
Refrain from admitting fault or discussing the accident with anyone except your insurance company and an attorney.
Consider consulting with our Sonoma County reckless driving accident lawyers to help you understand your legal options and protect your rights.
Keep all records related to the accident, including medical bills, police reports, and correspondence with insurance companies.
Reckless Accident Statistics
In the United States, reckless driving poses a major problem and leads to many accidents and fatalities yearly. The National Highway Traffic Safety Administration defines reckless driving as the intentional disregard for the safety of others on the road.
While it is difficult to determine the exact number of people affected by careless driving, the AAA estimated that it caused more than 50% of all traffic accidents between 2003 and 2007.
Fatal car crashes are primarily caused by speeding, while drunk driving also plays a significant role in traffic-related incidents on American roads.